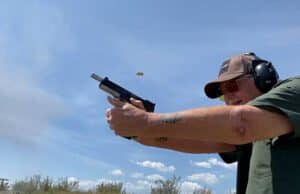 00:13:41
Triggered
This week we take a deep dive into the Tisas/SDS Imports D10 "X" — and that's definitely a capital X — the new 10mm 1911 from Turkey. Everyone who has handled this gun has been…awed. See why!
A round-up on the first filming trip for the new THE BEST DEFENSE series, featuring Rich Nance and Jeremy Stafford, that took place at GUNSITE last week. Prepare to be amazed! Also, the Tisas "X" 10mm wins even more fans.
This week we're talking about more of the lessons learned from an increasingly violent America…why you need a "space in your head" to accept that violence could indeed happen to you!
This week Michael recounts his week at GUNSITE with old friends and great instructors. Plus, the Tisas PX-9 proves itself to be a solid, reliable pistol after 1000 rounds.
This week we forgo the music and talk about the acquittal for Kyle Rittenhouse and its implications for the self-defense community.
This week Michael expands on a column written by master trainer Dave Spaulding on how we deny reality at our own risk.
Many combative pistol skills can be mastered without ever firing a shot.
If you spend any time around handgun shooters, whether at a training course, the gun club, on a gun forum or just standing around...
I have been studying armed conflict my entire life. After sitting down in 1976 with a veteran of the trench warfare of WWI, I became hooked on speaking with everyone I could who had been in armed conflict.
I have long felt that part of being a combative firearms instructor was looking for solutions not just teaching established doctrine. The debate between...