Tag: Personal Defense Network
This week we look at the consequences of years of "chumming for monsters," as monsters of all varieties rise to the taste of blood. We also take a more indepth look at Rob Pincus' Intuitive Defensive Shooting concepts.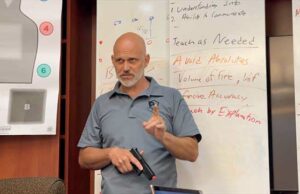 00:16:55
Triggered
This week we look at I.C.E. Training Company's Intuitive Defensive Shooting class and talk about why this may be the ideal class for the flood of new gun owners.
This week Michael does an exclusive interview with Rob Pincus of Personal Defense Network and THE BEST DEFENSE on his work with printing handgun receivers and the upcoming Gun Maker's Match. Also Ruger's new MAX-9!