Even as the government attempts to define homemade guns out of existence, Michael's "Glockish" G34 is moving toward completion!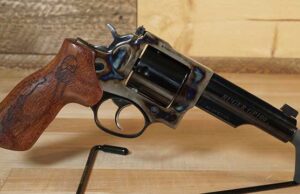 00:21:27
Triggered
The Jeff Quinn Tribute GP-100, a joint project between Lipsey's and Ruger, is a fitting memorial to a brilliant talent. Turnbull Restorations can make that gun a true heirloom.
Primary Machine reached out to Dave Dawson at Dawson Precision to create an all-new front sight for co-witnessing. Works perfect!