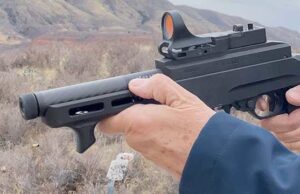 00:17:19
Triggered
This week we take a look at the new Volquartsen ENV pistol, built on that company's 10/22 aluminum receiver. Is it the ultimate backpack gun?
This week on MBTV ON THE RADIO, there's more discussion on COVID-19, especially on issues of personal and family security…and then, actual gun content, the new Ruger PC Charger!
The versatile new Ruger Charger has a lot going for it with accuracy tests showing well under one-half inch. A fun plinker gun, a light varminter and even a good truck pistol.