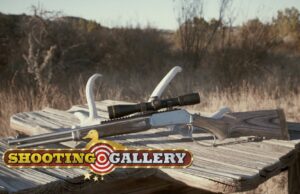 00:03:21
Shooting Gallery
Ruger's long-awaited reintroduction of the Marlin 45/70 rifle becomes the centerpiece of a West-Texas hunt for Mule Deer & Aoudad.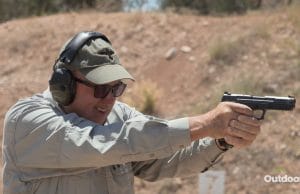 00:03:04
Shooting Gallery
Michael Bane travels to Gunsite in Arizona to compare the 5.7 to the .22 TCM and find out what they're really good for.
This week Michael wades very carefully back into politics after a bit of a discussion on NRL22.
Michael Bane and SIG Sauer's Phil Strader talk about the new SIG P365 SAS which has a Flush Mounted FT Bullseye Sight embedded into the slide. Bane also shows of the guns he brings to the Rimfire Challenge World Championship.
This week Michael ponders over hunting, the 6.5 PRC and the most difficult challenge of all.... what to sell and what to buy....
This week on SGO, it's all about Survival Rifles, from its original use by pilots during WWII to the the demand for these firearms today by civilians.
With this newest "Hawk" from Ruger, we have a revolver that will shoot .45 ACP through the use of full moon clips and the wide range of 45Colt loads.
Ed Head evaluates a new addition to the Ruger's family of SR911 Pistols.
The composite stock reduces the rifle weight to 6.25 pounds, ¾ pounds less than the popular laminate wood stock version.
Do you like revolvers? I sure do and I want to tell you about two new ones that should appeal to all shooters, whether they are experienced revolver types or those who have been considering trying them.