Tag: Volquartsen ENV Pistol
This week, a few more thoughts on what .22 trumps the .32 auto, especially if you shoot the little beasts!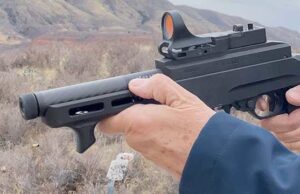 00:17:19
Triggered
This week we take a look at the new Volquartsen ENV pistol, built on that company's 10/22 aluminum receiver. Is it the ultimate backpack gun?
This week, some thoughts on 300 yard shots with the Henry Long Ranger 6.5 Creedmoor, plus an update on projects here at the Secret Hidden Bunker.
Mental flexibility is one of our greatest assets for dealing with the flood of changes we are all dealing with. It's not enough just to know that you're on your own — you need a plan! Also, more micro-9mms are headed your way!