Press Release
The Wildey Survivor was developed in 1973 and made popular by Charles Bronson in Death Wish 3. It's the first gas operated, double/single-action pistol and was designed as a hunting firearm.
It is still referred to as "The Bronson Gun".
The rights were purchased from its designer, Wildey J. Moore, by USA Firearms Corp. in 2015.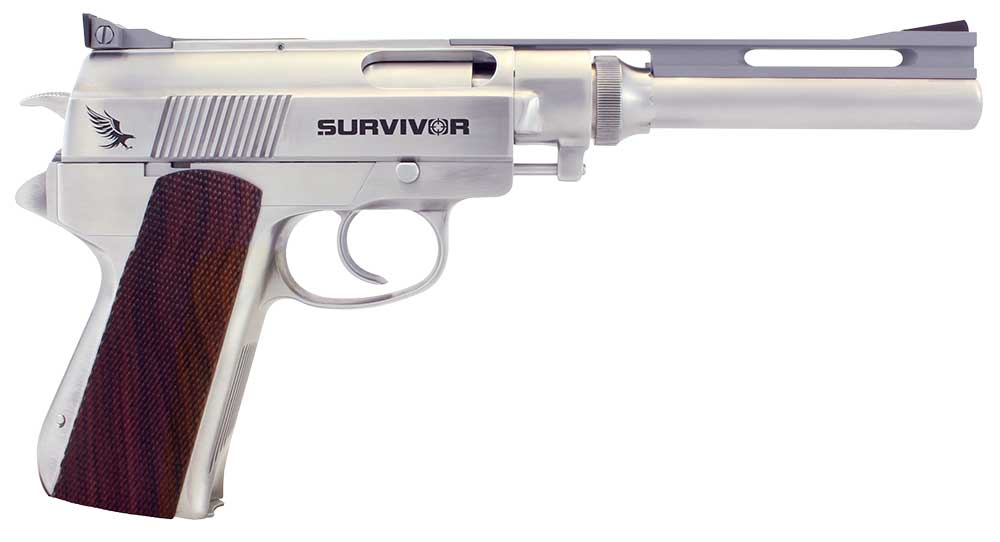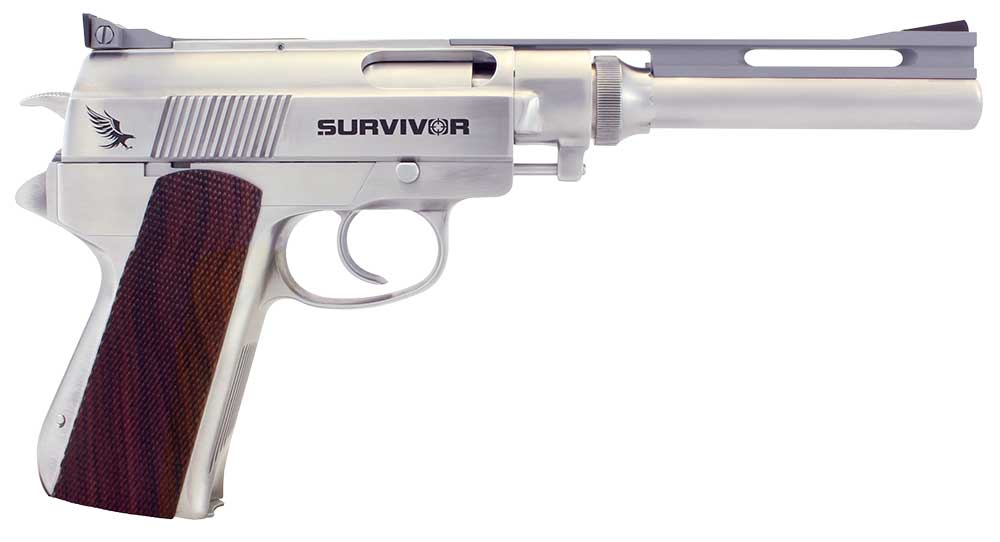 The Survivor is a large caliber, gas operated handgun with interchangeable barrels that make it fast and simple to switch between calibers or barrel lengths.
Its patented gas operation can be set for different loads and helps to greatly reduce recoil. The 3 lug and enclosed face rotary bolt design increases action strength, while the fixed barrel results in increased accuracy. The gun's stainless steel construction ensures quality and durability while giving it a sleek look. The Survivor has everything you could need in a powerful, accurate handgun.
The Survivor is a customizable gun popular with big bore handgun hunters (hunting of hog, bear, elk, moose, etc.), backyard shooters, and collectors which features multiple calibers, barrel lengths and finishes. Barrels are interchangeable, and you can change your one receiver to any available calibers or lengths with ease.
The Survivor is available in many customizable options:
   Calibers: 475 Wildey Magnum, 45 Winchester Magnum, or 44 Auto Mag
   Action: Single Action Only or Single Action / Double Action
   Barrel length: 8", 10", or 12"
   Finish: Brushed Stainless, High Buff Stainless, or Matte Stainless
   Rib Color: Gray or Black
   Front Sight Color: Red, Orange, or Black
   Grips: Pau Ferro Smooth or Textured, or American Walnut Smooth
   Logo: Survivor or Wildey
After the acquisition of the Wildey line of handguns by USA Firearms Corp (USAFC) in 2015, USAFC used their own family history of the highest quality workmanship and innovative solutions to build upon the well-established reputation of the first gas operated, semi-automatic Wildey Survivor.
USAFC has refined this classic handgun in many ways to improve performance and deliver the best Survivor ever made. Amongst the improvements:
Machining the slide and piston from solid to make them stronger and more consistent
Adding a mating surface to the barrel for consistency in manufacturing
Lengthening the thread engagement between the barrel and extension for added durability
Matching the angle on the lock bar on the rear of the extension to reduce stress fractures
Fixing the cycling issue to improve reliability
Using a proprietary honing process on every barrel, producing a smoother polished rifling which results in an increase in accuracy
Whether you're hunting hogs in Texas, taking on moose in Maine, or just shooting targets at the range – the Survivor pistol has the shooting power you want with a manageable recoil that will keep you going all day.
MRSP: From $2,750
For more information, visit www.usafirearmscorp.com.