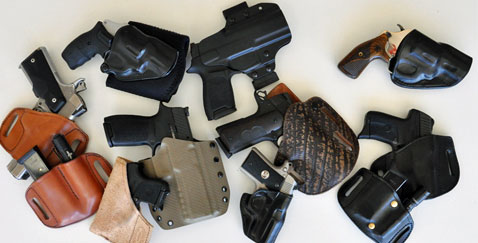 Concealed carry means just that; your pistol should remain concealed. In some jurisdictions it's a crime for any part of your concealed pistol to be visible to others and there are sound tactical reasons for your pistol to remain out of sight. Then we have the case of those frightened by the mere presence of a weapon and their hysterical brethren who would like nothing better than to call 911 and have you arrested or shot down by a SWAT team for exercising your right to be armed in public. All things considered, it's probably best to keep your pistol out of sight.
Fortunately, we live in a time when concealed carry is growing in popularity. The firearms industry has responded with a multitude of products, from concealable pistols to holsters and related gear to make concealment easier. Our task is to select the guns, holsters, clothing and accessories that fit our lifestyle so we can carry our pistols with confidence. Writers, including myself, have devoted lots of words to this topic but there's something else I would like to address. Referred to as printing, it's a term to describe giving away the fact that you're carrying concealed without actually revealing the firearm. Even though the gun isn't visible, a large bulge in a pocket, a trouser leg that falls unnaturally over the ankle or a pistol butt that tents the material of your shirt or jacket when you bend over can show the location of your pistol.
A friend recently told me he had never seen me print or otherwise give away the fact that I was carrying concealed. Aside from choosing good gear – guns and holsters – and "dressing for success", that is wearing clothing that facilitates concealment, my friend's comment got me to thinking about the most important, but least discussed part of carrying concealed. That's having a concealed carry mindset that ensures success in remaining undetected. It starts with making the decision that you're going to carry all the time. Not sometimes, or when you think you might need to, but all the time. The purpose of concealed carry pistols is to stop unforeseen, life threatening attacks and you can't know when that need may arise. The next step is being conscious of the pistol and making sure to avoid giving away that you are armed. Hiking up the trousers, adjusting the holster or touching the gun can bring attention to you and reveal that you are carrying. Think about your posture. If you're wearing a hip holster, dropping the shoulder and cocking the hip in slightly on the gun side will allow your clothing to drop over your pistol without printing; the opposite stance will make your gun stick out. Even a small pistol is difficult to conceal if the belt holster is located on the point of your hip. Locating the pistol behind the hip is much more concealing. Because this can be uncomfortable when sitting I like to use a holster that allows me to slide it back for concealment or a little forward when driving. Be careful about bending over from the waist as this will likely hike up your shirt or your jacket and you will print or uncover the pistol. Get in the habit of squatting instead. Are you in the habit of crossing your arms? If this tightens the material of your shirt you may print. If you're going to pocket carry make sure to use a pocket holster that breaks up the outline of the gun and if that's too obvious put a handkerchief in your pocket to cover the holster. Big people with big pockets seem to do better at pocket carry, but in any case you're going to need big or baggy pockets to avoid printing. How about ankle holsters? Crossing your legs will likely hike up the pant leg and reveal your holster, as will hiking up your trousers when you sit down. It's best to carry the ankle gun on the inside of the leg opposite the strong hand and baggy pant legs are a necessity to conceal the gun and let you get to it.
Inside the waistband (IWB) carry helps to avoid printing because much of the gun is inside the trousers. The two main forms of IWB carry are behind the hip and in front of the hip, the latter referred to as appendix carry. In either case the gun can be concealed with a baggy un-tucked shirt or a jacket. Careful gun handling is always a must but even more so with IWB carry, as in one instance the gun is pointed at your butt and in the other it's pointed at your crotch.
By the way, these practices work for both men and women so long as we're talking about carrying on our person. Off-body carry with purses, fanny packs, backpacks and the like present different issues related to printing. If someone recognizes your luggage as a gun bag it's not much different from revealing a pistol covered by your clothing. If you're separated from your firearm because it's in a bag it's easier to lose and you might not have it at hand when you need it. I remember, back when fanny packs were all the rage in the cop world, leaving my pack in a restaurant. After the initial panic and recovery of my pistol, wallet and badge I swore off any form of off-body carry.
Get into a concealed carry mindset, think about what you need to do to conceal and protect your pistol, and in time the way you carry yourself will become habitual. All it takes is practice and getting your mind right.
About the Author: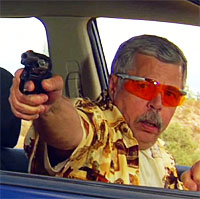 Ed Head is a regular on Shooting Gallery, Gun Stories and Down Range TV. He has worked for almost 30 years in law enforcement, first in the United States Air Force and then with the United States Border Patrol, retiring as a Field Operations Supervisor. During his Border Patrol career, Ed worked in a variety of patrol, investigative and training capacities. Ed has an extensive background as a firearms instructor, having trained thousands, ranging from beginners to police, military and special operations personnel. Having taught at Gunsite for 20 years, Ed first trained there under the world famous shooting school's founder, Jeff Cooper, then later ran the school as the operations manager for more than five years. Ed lives in Chino Valley, Arizona, where he continues to teach and write.