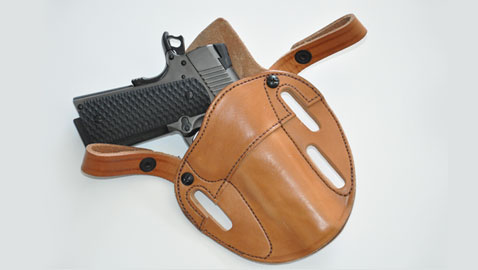 Do you have a box full of holsters? Most of us do, but what if I told you there is a new holster that will save you money because it takes the place of four other holsters? The Defcon 3 holster by Simply Rugged Holsters can be used as a strong side or cross draw belt holster and is also the most comfortable and useful inside the waistband (IWB) holster I have ever tried. Keep in mind, I'm not a huge fan of IWB designs because many I've used are uncomfortable, don't allow me to get a proper grip on the pistol or make me get undressed to holster the gun. The Defcon 3 solves all these issues and helps me carry my favorite 1911 pistols securely, and most importantly, so comfortably I can wear them all day long. The secret to this holster is the modified pancake design holster-maker Rob Leahy uses for most of his holsters. With the included cleverly designed set of straps the Defcon 3 can be converted from a belt to an IWB holster and, with the addition of Rob's Chesty Puller strap system, can be used as a chest rig. Although Rob makes some holsters with a thumb snap security strap the Defcon 3 doesn't need any retention device because the holster is perfectly fitted to the pistol and is retained in the holster by the design.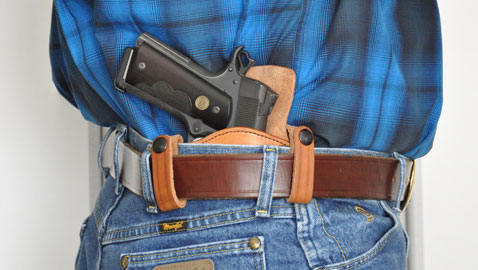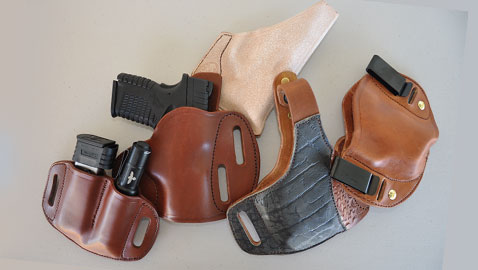 Rob's been in business for about 10 years and now uses Hermann Oak leather – the best leather you can buy – for all of his holster, belt and accessory designs. He can produce these products in everything from plain, to stamped, to carved or exotic leathers to satisfy any taste. By the way, he is a U.S. Army veteran who takes great pride in hiring and training vets. Highly recommended. For more information, visit www.simplyrugged.com .
About the Author: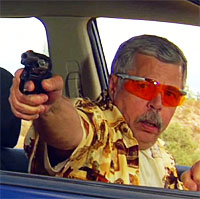 Ed Head is a regular on Shooting Gallery, Gun Stories and Down Range TV. He has worked for almost 30 years in law enforcement, first in the United States Air Force and then with the United States Border Patrol, retiring as a Field Operations Supervisor. During his Border Patrol career, Ed worked in a variety of patrol, investigative and training capacities. Ed has an extensive background as a firearms instructor, having trained thousands, ranging from beginners to police, military and special operations personnel. Having taught at Gunsite for 20 years, Ed first trained there under the world famous shooting school's founder, Jeff Cooper, then later ran the school as the operations manager for more than five years. Ed lives in Chino Valley, Arizona, where he continues to teach and write.