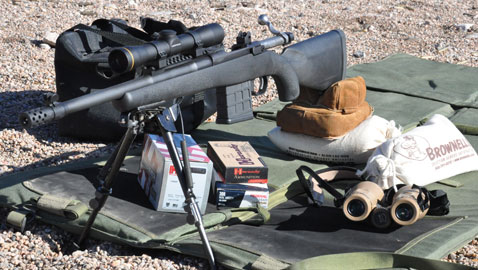 There I was, lying on the ground, snugged up into the sling and looking through the 2.5 power scope as the target came into view at exactly 200 yards. As I pressed gently on the trigger the rifle bucked and I heard the bullet impact the target as I ran the bolt to chamber another round, fired again, then yet again. In less than 10 seconds three bullets had smacked into the steel target, printing a 2½ inch group. Okay, I guess this little rifle shoots.
Several years ago when Michael Bane, Dave Spaulding, Gunsite owner Buz Mills and Ruger's Ken Jorgensen met with me at Gunsite to discuss the idea of a modern Gunsite Scout Rifle (GSR), one of the things we all wanted was a synthetic stock to cut down on weight. At the time this wasn't feasible if we were to keep the rifle within the targeted price range because Ruger wasn't making synthetic stocks. We had to "settle" for a beautiful laminate stock that's practically indestructible. Recently, Ruger has gotten into the synthetic stock business in a big way, particularly with their very popular line of American Rifles, so we probably shouldn't be surprised they have introduced a synthetic stocked version of the .308 GSR. The rifle is available in blued or stainless steel and I would be surprised if a left-handed version isn't in the works.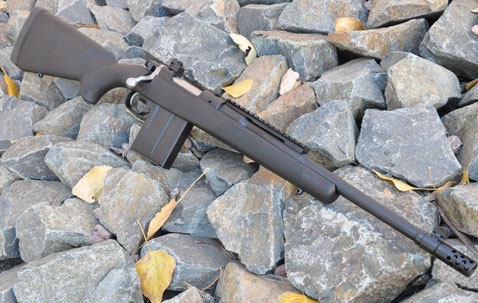 Ruger listens to their customers and one of the things some customers wanted was a scout rifle that "makes weight". You see, back when Jeff Cooper advanced the idea of a Scout he laid out a set of criteria that included a bare weight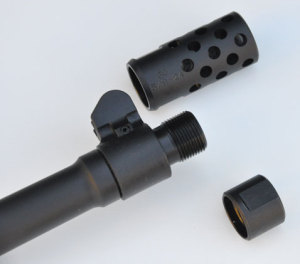 of 3 kilograms, or 6.6 pounds. The original GSR weighs 7.1 pounds. I don't see this as a problem because having a little more weight on a compact rifle chambered in a powerful cartridge like .308 Winchester makes it more comfortable to shoot. The new Ruger synthetic GSR makes weight, and then some, weighing in at a scant 6.25 pounds. Does that make it uncomfortable to shoot? Well, it could, but Ruger has added a muzzle brake to the free floated, threaded 16.1inch medium contour, cold hammer forged barrel that is very effective in taming recoil. There's a barrel nut/thread protector included with the rifle so you can shoot it with or without the muzzle brake or add flash or sound suppressors. I don't have a way to measure the difference but subjectively the recoil is definitely sharper without the brake in place. As a matter of fact, the muzzle brake works so well I hope Ruger will offer them as accessory parts – because I want to put one on my original GSR.

The synthetic stock has aluminum bedding blocks, just like the laminate stock, and the torque values for the stock bolt are the same: 90 inch pounds for the front bolt and snug but not tightened down for the rear trigger guard bolt. Listening to customers again, Ruger has added a swivel stud boss to the stock forward of the front stock bolt that will allow customers who wish to use a 3 point Ching Sling to install a third sling swivel stud. Like the original GSR, the synthetic stock has a soft recoil pad and can be adjusted from a 12.75" to 14.25' length of pull by adding or removing the included stock spacers.