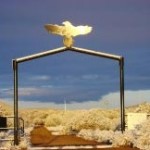 As we start the New Year at Gunsite we have a rather exciting announcement for you.  Buz Mills has decided to run for Governor of the state of Arizona.  As you may know, Buz has been an active participant in politics for many years as a supporter of various candidates and causes.  Now, due to the fiscal mess we find ourselves in, especially in the state of Arizona, Buz has decided to take a leadership role in solving these problems.  He is, of course, a strong supporter of our freedoms, especially our Second Amendment rights, but even more importantly, Buz brings to government a strong background in business and responsible fiscal management.  Should you wish to help support Buz in this endeavor you can call his committee at 602.617.1999.
January is a very busy time for everyone in the firearms industry due to new product introductions and the many trade shows, most notably SHOT and SCI, that take place in January.  SHOT, the Shooting Hunting and Outdoor Trades show is run by the National Shooting Sports Foundation.  After moving around the country it has now found a permanent home in Las Vegas and, for the first time, will be held in the new Sands Convention Center.  SHOT is intended for industry professionals, either buyers or sellers, and much of the selling the manufacturers do every year takes place at SHOT as distributors and dealers make their orders.  It's also when most of the manufacturers introduce new products so those of us attending always look forward to getting a first look at new gear and guns as well as meeting with our friends in the industry.
SCI, the Safari Club International show, always takes place in Reno.  Along with writers and members of the shooting and hunting press, this show is intended for SCI members, most of whom are big game hunters.  Manufacturers go there to show off their wares and the show is also heavily attended by various outfitting and guide services.  Hunters can look over guns and gear and schedule their hunts after checking out the different outfitters.
Gunsite puts up a booth at SCI and we usually end up signing up quite a few people for our classes, primarily the rifle and hunter prep classes, along with private tutorials.  Our hunting focused programs have grown each year as more people have come to realize that, just because they have been hunting for a long time, it doesn't mean they know how to shoot and handle their rifles as well as they might.  Especially for those embarking on expensive big game and African hunts, coming to Gunsite for a tune up, either in a class or as a private tutorial, has proven to be a valuable investment time and again.
The instructors we have teaching our hunting classes at Gunsite are all skilled hunters and shooters, not the least of which is Il Ling New. Il Ling recently returned from Africa where she succeeded in hunting her second Cape Buffalo.  She bagged her first buff several years ago with a .375 rifle.  This time, she stalked within 32 yards and put her animal down with three shots, the last at 100 yards, using a Ruger .454 Casull revolver.  All three shots were heart shots.  This is impressive hunting and we're very proud of her accomplishment.
As most of you are probably aware, we do a deal every year where you can enroll in a class for the following year at current prices if you get the application in before the end of the year.  As the economy continues to stumble along we have decided to keep our 2010 prices at the 2009 rate through March of 2010.  So, at least through March, we will be maintaining our current pricing and we hope you will take advantage of that.
Jeff Cooper often said that the properly set up pistol should have everything you need and nothing you don't.  This description perfectly describes the Colt Gunsite 1911, .45ACP pistol we sell at Gunsite.  These pistols are manufactured to our specifications by Colt in both blued and stainless steel.  They are full size, all steel, 1911 pistols with Novak sights, extended grip and thumb safeties, flat mainspring housings, slim, checkered rosewood stocks and short triggers. The pistols are designed to fit all hand sizes, but can be further outfitted with beefier stocks, long triggers, low thumb safeties, night sights, or other accessories as needed.  Right now we have a good stock of both blued and stainless models and they are on sale for $1195, which is a good price for a semi-custom 1911.  Each pistol comes with a certificate for $100 off the price of a Gunsite class, so give us a call if you would like to order a pistol, or better yet, use that certificate and sign up for a class to go with it.
Finally, even if the winter weather is keeping you from going to the range and practicing as much as you might like, remember that you can do yourself a lot of good with dry practice.  Even as little as 10 minutes of dry practice, several times a week, can make a big difference in your gun handling and shooting skills.  Give it a try; you might be surprised at the results.
DVC,
Ed