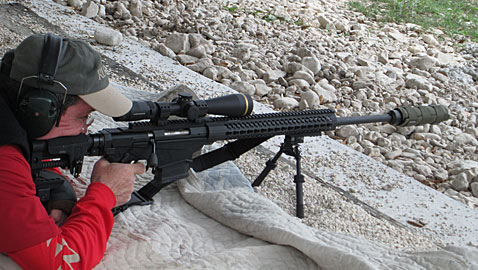 Once upon a time Ruger's CEO Mike Fifer and a handful of his employees attended a long-range precision rifle school at FTW Ranch in Texas and came away from the experience determined to invent a better mousetrap – in this case a better precision rifle. A team of five design and production engineers was assembled at Ruger and they spent the next year sitting around the same table with their computers and a blank piece of paper then returned to FTW after the NRA annual meeting with a handful of writers to introduce their new rifle, the Ruger Precision Rifle (RPR).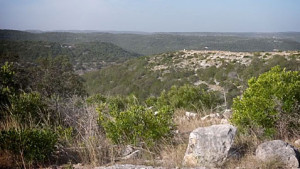 Before we get into details of this new rifle, let me tell you about FTW. Located on 12,000 acres within 27 miles of fencing in the Texas hill country, FTW is an exotic game ranch as well as a hunter training school devoted to teaching hunters to humanely harvest game by giving them the skills to make precision hits under field conditions. In addition, FTW teaches long-range precision rifle shooting for civilian, police and military riflemen and it is the prefect place to test a new rifle. Set up like a safari camp, FTW has a lodge with a fantastic variety of game mounts covering the walls all the way up to the high ceilings, gun cabinets lining the walls, a very well stocked bar, a dining room serving gourmet meals, a classroom and about a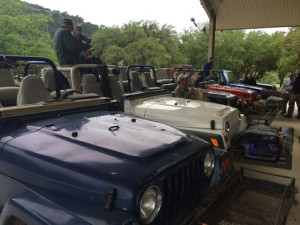 dozen guest cabins. And ranges – let me tell you about the ranges – I've never seen anything quite like the ranges at FTW. Only steps from the lodge there are known distance ranges for zeroing as well as charging elephant and buffalo simulators for the hunters. The only drawback to these ranges are the occasional pauses in shooting necessitated when a flock of wild turkeys or some exotic horned critter from India or Africa meanders through without a care in the world. There are covered ranges and shooting positions scattered all over the ranch, most of them on ridges overlooking deep valleys and all with steel targets set at distances from several hundred yards to way out there. You get around in Jeeps driven by the instructors/guides and some serious four wheeling is needed to get to some of the shooting spots. Reinforcing the safari camp theme of the place, you are awakened in the morning by a gentle knocking on the cabin door whereupon you are presented with a cup of made-to-order coffee. The staff, instructors, facilities, ranges and atmosphere at FTW are world class in every way.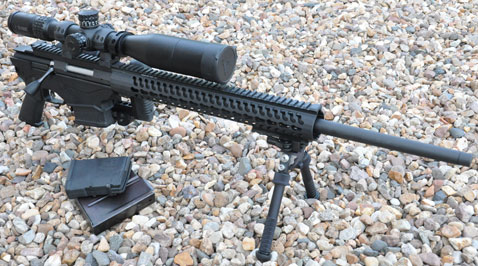 So FTW was the inspiration for Ruger's new rifle, and what a rifle it is. At first glance you might think the RPR is an AR platform rifle converted to bolt action but you would be wrong. What you might think is the lower receiver is actually composed of two halves made of 7075-T6 hard-coat anodized aluminum bolted together with the purpose of holding the trigger and a variety of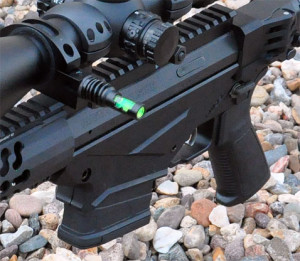 detachable box magazines. The actual serial numbered part is the CNC machined pre-hardened 4140 chrome/moly steel alloy upper receiver containing a bolt based upon the one used in the Ruger American Rifle. The oversize bolt handle is threaded for easy removal or replacement and can be used as a driver handle for hex drive bits. The cold hammer forged medium contour 4140 chrome/moly barrel is attached to the upper in the same fashion as an AR barrel and can be removed or changed with the same tools. The barrel is rifled with Ruger 5R rifling with minimum bore and groove dimensions, minimum headspace and a centralized chamber – all to promote accuracy – and is threaded with 5/8-24 threads to accept muzzle brakes and suppressors. The barrel on my rifle measures 24 inches.
The action and barrel aren't contained in a traditional stock; there is no bedding and the barrel is free floated and contained within a Samson Evolution Keymod rail. The Picatinny rail atop the receiver provides 20 MOA of elevation to enhance long range shooting capabilities. The pistol grip, butt stock and forearm rail are straight out of the AR parts catalog and may be interchanged with any standard AR parts. The safety is an AR part and is reversible. The Ruger Modern Sporting Rifle stock is fully adjustable for length of pull, has an adjustable cheek piece and can be canted to the left or right. The bolt slides back into the stock tube and you might wonder how to get the bolt out of the rifle for cleaning. Depressing a detent solves the mystery as the stock folds to the left, making the rifle more compact for storage and allowing the removal of the bolt. As a matter of fact, when the stock is folded, I found the rifle fits in a rifle case designed for a 16" barreled carbine. The Ruger Marksman trigger is externally adjustable from about 2.25 to 5.0 pounds and a tool for making the adjustment is stored in the bolt shroud. The trigger on my sample rifle breaks at a crisp 2.2 pounds. The 6.5 RPR has a bare weight of 10.6 pounds. All up, fully loaded and with the bipod and scope, my test rifle weighs just an ounce under 16 pounds.
The rifle is magazine fed and one of the trickier features is its ability to use a variety of magazines. My rifle is chambered in 6.5 Creedmoor, a round based upon a .308 Winchester case, so any of the M110/SR25/DPMS/Magpul and AICS .308 magazines will work in the RPR. To get all these magazines to function the engineers had to design a multi-magazine release and feeding system and they tell me this was one of the more difficult design aspects to work out. While the rifle ships with two 10 round Magpul PMag plastic magazines any of the 20 round SR25/Magpul mags should work as well. Interestingly, the metal AICS magazines that ship with the Ruger Gunsite Scout Rifle will work in the RPR but the plastic Ruger GSR magazines will not. Ruger advises that some AR10 and M14 magazines may function in the RPR but they can't guarantee it due to the wide variations and tolerances of these magazines from their many production sources over the years.
In addition to the 6.5 Creedmoor caliber my rifle is chambered in the RPR will be available in .308 Winchester and .243 Winchester. With a suggested retail price of $1399 and a street price likely to be several hundred dollars less it is a lot of rifle for the money. As I've run out of room describing the rifle we'll talk about how it shoots in Part 2, but I promise you it's worth the wait. This rifle shoots!
For more information:
www.ftwoutfitters.com
www.ruger.com
About the Author: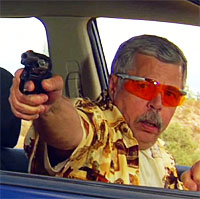 Ed Head is a regular on Shooting Gallery, Gun Stories and Down Range TV. He has worked for almost 30 years in law enforcement, first in the United States Air Force and then with the United States Border Patrol, retiring as a Field Operations Supervisor. During his Border Patrol career, Ed worked in a variety of patrol, investigative and training capacities. Ed has an extensive background as a firearms instructor, having trained thousands, ranging from beginners to police, military and special operations personnel. Having taught at Gunsite for 20 years, Ed first trained there under the world famous shooting school's founder, Jeff Cooper, then later ran the school as the operations manager for more than five years. Ed lives in Chino Valley, Arizona, where he continues to teach and write.