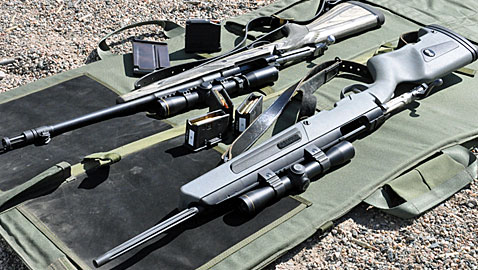 The classic Scout rifle stems from a concept first defined by Jeff Cooper for a general purpose, user-friendly rifle suitable for hunting or fighting. Above all else, Cooper felt the rifle should be "handy" and towards that end he began defining attributes to satisfy his ideal design. Today we think of a Scout rifle as a lightweight, short-barreled bolt action chambered in .308 Winchester or .223 Remington calibers, magazine fed and having provisions for iron sights as well as traditional or forward mounted optics. Other features may include stocks adjustable for length of pull, threaded barrels for adding muzzle breaks or suppressors and, one of my favorite features, a cushy recoil pad. Some folks enjoy building their own Scout concept rifles by modifying existing or surplus rifles, and some of the Scout features like forward mounted scopes can be found on everything from lever action rifles to little .22s, referred to as Cub Scouts. Factory Scouts are currently available from Steyr, Savage, Ruger and Mossberg.
For a time it looked like the Scout concept might be going away, as few factory Scouts were selling and most riflemen didn't understand the advantages a Scout could offer. The rifles were expensive and I often heard the refrain, "You can't do anything with a Scout I can't do with my (fill in the blank)." True enough if we're talking about shooting a few rounds a year from the bench to check zero but not so true if you're a practical rifle shooter who gets off the bench, walks, stalks and shoots in the field. Shooting the various practical rifle courses at Gunsite, for example, will make you a believer in the usefulness of a Scout rifle. The Scout concept got a big shot in the arm a few years ago when Ruger partnered with Gunsite to make an affordable new Scout rifle packed with features. Ruger was taking a chance but in no time at all the Ruger Gunsite Scout rifle (GSR) became a top seller for the company and introduced a new generation of shooters to the Scout. I'm guessing this success is what inspired Mossberg to market a Scout and Savage to offer a new version of their rifle this year. With these new additions, it looks like the Scout rifle concept is in good shape and being accepted by more shooters.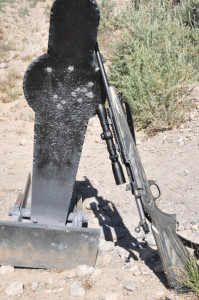 Assuming you have a Scout rifle (and if you don't, what are you waiting for?) I've come up with an exercise I'm calling the Scout Rifle Challenge and I want to challenge you to shoot it and report your results. The challenge is this: Shoot 15 rounds from a standing, prone, kneeling or sitting position on either a 12" target at 200 yards or a 6" target at 100 yards. No bench rest shooting allowed. Oh, and there's a time limit of 90 seconds. You can use a shooting sling or shoot off a bipod and use iron or optical sights. At least one reload is required. You can shoot the Challenge on paper or steel and it can be fired with any Scout, home made or factory.
I think there are a couple of ways to approach this, either as a gut-check to be shot occasionally to see where your skill level is, or as something to be shot and practiced regularly with the goal of increasing your hits and shooting more quickly. I went out today and shot this "cold" with two of my Scout rifles, a Steyr Scout and a GSR, both chambered in .308. I fired from prone using a loop sling for support. The Steyr has a three point Ching sling and the GSR has a two point Rhodesian sling from Andy's Leather. These two rifles are really quite different even though they are both Scouts. The Steyr has a thin, fluted 19" barrel, feeds from 5 round magazines, has a push feed action and there is a Leupold 2.5X scope mounted forward on the rail. The GSR has a 16 inch medium contour barrel with a flash suppressor, feeds from 5 and 10 round magazines, has a Mauser style controlled feed action and there is a Leupold 1.5-4 intermediate eye relief scope forward mounted. Shooting the two rifles, one right after the other without practicing or warming up demonstrated some of the differences between the two designs. While the Steyr action is a little smoother than the GSR the butter knife bolt handle has a much different feel than the smooth, round knob on the GSR bolt. You don't really have to think about flicking the Steyr bolt back and forth but the Ruger wants to be run hard, especially when it is pulled to the rear. Recoil with the GSR is hardly noticeable, while not disagreeable, it can be felt more when shooting the Steyr. Because my GSR has a 4X scope option I seem to be able to shoot it more accurately at longer ranges, like 200 yards and beyond. Shooting the Challenge, you have to do two reloads with the 5 round Steyr magazines. Shooting the Ruger, I did one reload using a 5 round and a 10 round Ruger plastic magazine.
So how did I do? I made the time (barely!) with both rifles. I shot at the 12" center of two steel "power popper" targets on Gunsite's Woodfill Range (named after Medal of Honor recipient Sam Woodfill) from prone using the slings for support. I managed to get all 15 hits – one was on the edge – with the GSR and got one hit outside the circle and one miss entirely off the steel with the Steyr, for a score of 13. I'm looking forward to doing this more and seeing if I can get the hits while bringing the time down.
If you want to post your results you can leave comments on Downrange.TV or join me on Facebook to post comments and pictures. You might also want to get involved with the Scout Rifle Forum. Take "The Scout Challenge" and let me know how it goes.
For more information:
www.ruger.com
www.steyrarms.com
www.savagearms.com
www.mossberg.com
www.scoutrifle.org
www.andysleather.com
www.gunsite.com
About the Author: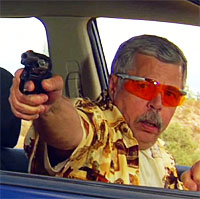 Ed Head is a regular on Shooting Gallery, Gun Stories and Down Range TV. He has worked for almost 30 years in law enforcement, first in the United States Air Force and then with the United States Border Patrol, retiring as a Field Operations Supervisor. During his Border Patrol career, Ed worked in a variety of patrol, investigative and training capacities. Ed has an extensive background as a firearms instructor, having trained thousands, ranging from beginners to police, military and special operations personnel. Having taught at Gunsite for 20 years, Ed first trained there under the world famous shooting school's founder, Jeff Cooper, then later ran the school as the operations manager for more than five years. Ed lives in Chino Valley, Arizona, where he continues to teach and write.