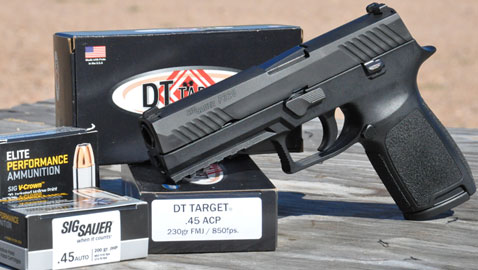 My introduction to Sig pistols came in the form of the Sig 220, a double/single action .45 ACP pistol the Border Patrol approved for personal purchase and duty carry. It was at a time when the Patrol was transitioning to semi-automatic pistols and agents were given the option of purchasing one of several approved pistols in lieu of their issued revolvers. Duty ammunition for the .45s was provided in the form of the excellent Federal 185gr. Match Hollow point, known as the "flying ashtray" because the hollow cavity at the nose of the bullet was so big. This ammo had been identified by the FBI as the ideal defensive handgun round after their extensive investigation following the Miami shootout in 1986, only to select a 10mm round that duplicated its performance for their new duty ammunition. If there was a fault with the .45 round it had to do with the fact that big hollow points didn't feed well in some pistols, especially just about any unmodified 1911. Happily, the Sig 220 digested this ammunition and I saw many thousands of rounds fired without malfunctions. As far as performance of this ammo was concerned let's just say the results varied from excellent to spectacular. The 220 and the Federal ammunition were solid performers in all respects.
The latest .45ACP service pistol from Sig Sauer comes in the form of their new P320. As you may recall, the P320 was introduced at the beginning of 2014 as Sig's first striker fired pistol and was initially made in 9mm. I tested this pistol for Downrange TV and was impressed with its reliability, handling and accuracy, so much so that I bought the pistol from Sig. Earlier this year at Sig's range demonstration day at the SHOT show I fired a few more new Sigs, to include a P320 chambered in .45ACP. My initial impression that this pistol was about the softest shooting .45ACP I had fired led to begging and sniveling until Sig provided one for me to test and evaluate.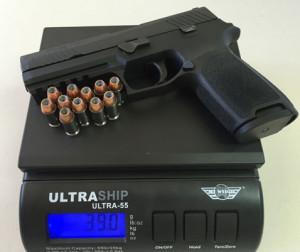 At first glance, the .45 caliber version of the P320 appears to be identical to the 9mm. The slides are the same width and length, they both come with Sig's excellent Siglite night sights and they both fit in the same holster. The differences between them become apparent when you hold them in the hand – the grip portion of the frame on the .45 feels, and is, a tiny bit wider to accommodate the wider 10 round magazine. The .45 feels slightly heavier and it is, but not by much. The 9mm weighs in at 29.4 ounces with an empty magazine and the .45 comes in at 31.7 ounces. Loaded with 11 rounds of Sig Elite Performance 200gr. JHP ammunition the .45 has a carry weight of 39 ounces, while the 9mm, loaded with 18 rounds of 124gr. Sig ammo weighs in at 37.1 ounces. In other words, all up, the pistols are the same for all practical purposes.
Like the 9mm version, the .45ACP Sig P320 has a 4.7" barrel, the slide is Nitron coated stainless steel and the "frame", what Sig refers to as the polymer grip module, can be had in full size, carry and compact sizes. A barrel, slide and recoil spring assembly is available to convert the pistol to one with a 3.9 inch barrel and this can be used on the carry and compact grip modules. What this adds up to is a pistol that is user configurable to different sizes and can be made to fit different hand sizes by exchanging grip modules. As a duty gun for a police department it is compelling; pistols can be adjusted to fit the hands of every officer and can be easily switched to different sizes suitable for patrol, plainclothes, off duty or undercover use. For the rest of us, the pistol can be set up for training or competition and then easily converted to a size better suited for concealed carry with parts that cost considerably less than the price of a different pistol. The P320 is a "one gun does it all" pistol.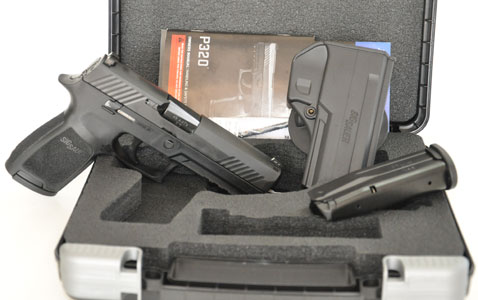 I've been shooting the .45 for a couple of months and it has chambered and fired every brand of ammunition I have at hand, including that flying ashtray Border Patrol load which feeds and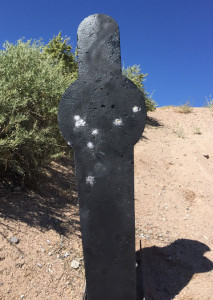 functions perfectly. With a trigger that is easily managed and feels much lighter than the 6 lbs., 10 ozs. I measured, the 320/.45 is easy to shoot well. With it I was able to ace the Border Patrol and Gunsite qualifications and found smacking steel poppers at 100 yards shooting offhand resulted in many more hits than misses. As a fighting pistol, this new 320 has all the accuracy I can use.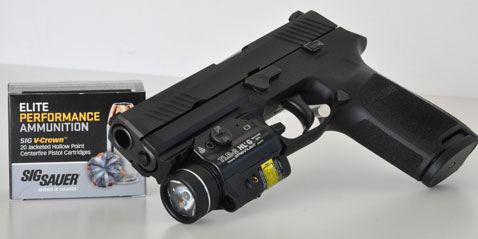 With the Picatinny rail molded into the frame various lights and lasers can be mounted and I think, with the new Streamlight TLR-2 HL G, a 720 lumen white light/green laser combination installed on the rail, the 320 will be good to go when things go bump in the night.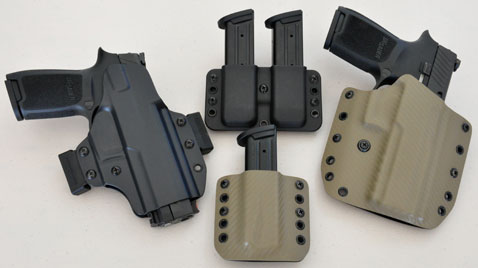 Good pistols deserve good holsters so I asked my friend Tim Wegner at Blade-Tech to send me one. He provided their new Total Eclipse, a versatile holster that can be used left or right handed and as a belt or inside the waistband rig and can further be adjusted for a straight drop or an FBI cant. It's a clever design and economical too, as the one holster can serve several needs – just like the P320. Some friends recommended I also look at the work of Todd Smallwood. He's getting started in the Kydex holster business and I have to say I'm impressed with the quality of his products. He made me a holster that works equally well for range work or concealed carry and made a couple of magazine pouches, one for the 9mm 320 and one for the .45 so I can use the holster with either caliber pistol. Todd doesn't have a website yet but you can find his Armed Citizen Holsters on Facebook.
Many years ago I was happy with the Sig 220 as a service pistol but today I would be even happier with the new 320. As a matter of fact, if I was running a law enforcement agency today I would select either the 9mm or the .45ACP P320, or both of them, as the issue service weapon due to their reliability and versatility. It's a no brainer.
About the Author: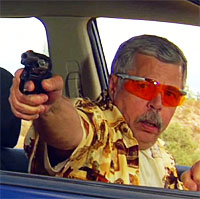 Ed Head is a regular on Shooting Gallery, Gun Stories and Down Range TV. He has worked for almost 30 years in law enforcement, first in the United States Air Force and then with the United States Border Patrol, retiring as a Field Operations Supervisor. During his Border Patrol career, Ed worked in a variety of patrol, investigative and training capacities. Ed has an extensive background as a firearms instructor, having trained thousands, ranging from beginners to police, military and special operations personnel. Having taught at Gunsite for 20 years, Ed first trained there under the world famous shooting school's founder, Jeff Cooper, then later ran the school as the operations manager for more than five years. Ed lives in Chino Valley, Arizona, where he continues to teach and write.