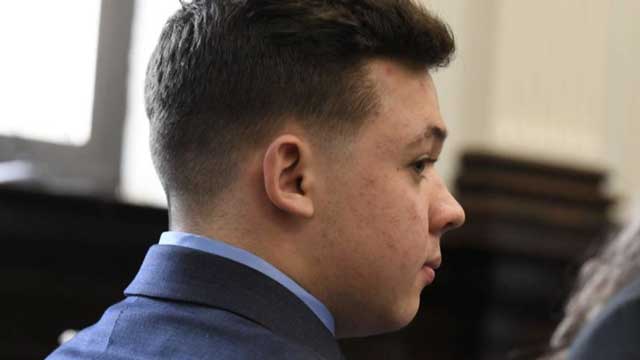 FaceBook refused to allow me to post this, so I moved it over to the blog and linked.
The quote in the NUT GRAFS below are from Tucker Carlson, and he is absolutely right. There is a greater point to this, however — the Rittenhouse verdict, be it to acquit or to convict, will affect the way we view, think of, practice and teach self defense.
I start talking about his in tomorrow's podcast.
The case is a landmark because for maybe the first time in American we have a "show trial" where the bulk of the evidence is on video, available to us all. I think — and I suspct most of you here agree — that what we saw was textbook self-defense as we have learned it, described it, taught it. Once again, and here I paraphrase Andrew McCarthy, Fox' legal analyst, it doesn't matter whether Mr. Rittenhouse "should" have been where he was and whether he "should" be carrying a gun…only that it was LEGAL for him to be in the place he was (public property) and he had the LEGAL RIGHT to be armed.
As I've said before, and as I will sadly no doubt say again, stupidity is not against the law. We've all done stupid shit at one time or another in our lives. Only the law SHOULD matter.
Over the years we have all talked about what an unscrupulous prosecuting attorney can do to a self-defense case, but I think this is the first time we all got to watch it live. How many of us wanted to stand up and shout, "You're LYING! YOU ARE LYING TO THE JURY!"
Thje American Bar Association (and my Sweetie, who is an attorney) states that every single lawyer must be sworn in and swear an oath to uphold the laws of city, stare and country. The Bar notes that the wording will be different from state to state, but all include three points:
• To support the Constitution of the United States,
• To faithfully discharge the duties of an attorney, and
• To conduct oneself with integrity and civility.
Where does lying, misrepresenting, "cutting corners," producing magic fairy dust evidene at the last minute, disrespecting teh Judge in the courtroom, etc. fit into this oath?
We're about to find out, aren't we?
I think the larger picture, which I'll undoubtably be talking about next week, is that what we think of as the Concealed Carry Revolution has been successful beyond our wildest imaginations. CCW is an accepted and not particularly controversial part of our lives and most state laws. There is a working group in Colorado trying to figure out how to ban concealed carry in areas after the state voted to eliminate preemption laws this year. The stumbling blocks are Heller/MacDonald and hunting…Colorado is and has been since the Wild West days an open carry state. Hunting is a $1 billion industry in Colorado, and even the Democrats are loath to lose that revenue. The working group understands that if they succeed in banning CCW in an area, what they get is open carry of scary guns. Hey, I rarely open carry, but if you ban CCW, you're gonna love my Barrett .50BMG, the ideal open carry gun!
CCW is now so entrenched in America that it can't be attacked by the now-unhinged ruling junta head on. But a precendent that carrying a firearm makes you the defacto provocateur in a self-defense situation essentially kicks the strus out from under the basic meaning of self-defense.
Think about it. I think — and certainly hope — that is not what comes out of Wisconsin, but it is ON THE TABLE.
It has never been on the table before.
One data point that comes up again and again is how we shoud all strive to be more like Europeans (heard that again today, in fact), because they are oh-so civilized peasants rather than deplorable domestic terrorists runnig around driving muscle cars, buying milk two gallons at a time and carrying "assault" weapons.
A part of that European mentality is the absence of any provision in law for self-defense. We've talked about this a lot omn the podcast over the years, because I have traveled pretty extensively. It's not just that Europeans have to jump through hoops to get a permit to purchase a firearm, it is that for the most part the very concept of "self-defense" either does not exist or has been wildly watered down. Note the current battle in the Czech Republic, which has always been gun-friendly and has a national CCW system, as the Socialists in the Europena Union are forcing the to accept the stricter EU laws…even Switzerland gave in to the EU.
We've talked a lot about England's laws. English law truly lead to our Constitution, but in Jolly Olde England (which, BTW, I do love), any act of self-defense will get YOU sent to jail…violence is the exclusive perogative of the state. In London, say you hit somebody trying to throw acid in your face with your Classic English Umbrella. Not only will you be charged for your violent attack on the aggressor, you will also be charged with "Carrying a Weapon," since anything you used to defend yourself becomes a defacto weapon, and you were indeed carrying it.
So when the junta tells us to be more like Europeans, think about the totality of what that means.
NUT GRAFS: "But it's the second part of the prosecutor's lie that tells you the most about how these people think. Here's the quote: 'You lose the right to self-defense when you're the one that brought the gun.' Really, Mr. Binger? So no one with a concealed carry permit is allowed to defend himself? What's the point of having a gun if you can't save your own life with it?
Well, that's exactly what they're telling you. They're telling you you don't have that right. You have no right to resist. That's the whole point of this whole proceeding, so the next time BLM sweeps into your town, your neighborhood, your house to burn and loot and brandish weapons, you had better not try to protect yourself or your family. Try to protect yourself or your family and we will charge you with murder, and while we're at it we'll have the national media call you racist."