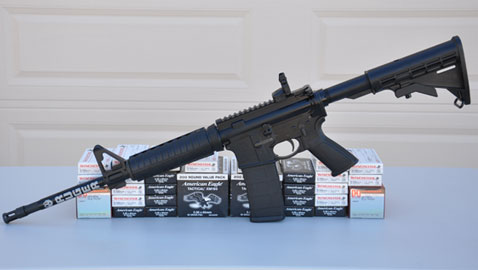 The Age Of The Economy AR rifle is upon us. After being demonized by the gun control crowd as an "assault weapon" and surviving various bans and restrictions, the AR-15 and all its variants are America's Rifle – the most popular rifle sold in America; the one most used by Americans for sport, competition and defense and the one manufactured by more companies than any other design. The popularity of the AR has continued to grow as more people have taken up shooting and military veterans purchase the rifle they learned to trust in combat. This drives the gun control folks bonkers because they thought demonizing these guns was going to be their golden ticket. It turns out they were wrong and even the anti-gun New York Times has conceded the point. These days we're experiencing a glut in the supply of ARs, what Michael Bane refers to as a bubble. After the school shooting in Newtown, Connecticut our Dear Leader declared his intention to see these guns banned and this triggered a panic-buying stampede we haven't seen since 1994 when Bill Clinton signed his assault weapon ban. During this latest scare buyers flocked to the stores and threw their cash on the counter to make sure they got their AR before the supply was cut off. Unfortunately, some dealers took advantage of this and jacked up their prices – the law of supply and demand, doncha' know. Manufacturers stepped up production as dealers and distributors screamed for more guns and eventually the glut was satiated. The bubble was created when the demand was satisfied and people came to their senses and stopped buying at inflated prices. These days dealers are up to their ears in high dollar ARs and this has opened the door to economy ARs. What's an economy AR? I'm going to say it's an AR that retails for about the price, or less, than the cost of building your own AR from parts. You see, Gun Culture 2.0, made up of younger shooters, have been quietly assembling and customizing ARs from parts and they see no need to spend thousands of dollars on complete rifles when they can make one for a lot less money. Manufacturers who continue to market very expensive ARs are going to go broke as these guns hang on the wall unsold while manufacturers who "get" this and offer affordable ARs are going to prosper.
Ruger gets it.
They use new products to grow their company and are very attuned to matching these guns to the needs of the consumer. They have been doing this for several years with great success and in many ways this approach is driving the firearms industry. In another move that's going to shake things up, Ruger is introducing new products as soon as they are ready to go to market. By doing this they're abandoning the traditional firearms industry model that calls for doing product introductions at the big annual dealer and consumer shows like SHOT and NRA. Their reasoning is, why wait? If the product is ready to go holding it back denies the company money every day the gun isn't being sold and that brings us to the new Ruger AR-556, a rifle with a street price under $600.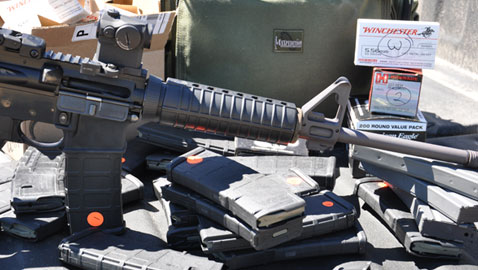 When Ruger decided to get into the AR market with their SR-556 they used a two-stage piston design. The SR-556 is reliable and accurate but it's also expensive. The new AR-556 is a direct gas impingement AR. A gas gun is lighter and less costly to produce than a piston gun and when done correctly is every bit as reliable. The AR-556 is made in Ruger's new factory in Mayodan, North Carolina, is 100% American made and produced almost entirely from parts made by Ruger. These parts include the upper and lower receivers and the 1:8 twist barrel with a chamber optimized to run both 5.56 NATO and .223 Remington ammunition. Ruger chose not to chrome line the barrel (something only military full-auto weapons in sustained firing benefit from) but chrome plated the bearing surface of the gas key and the inside of the bolt carrier where the bolt resides.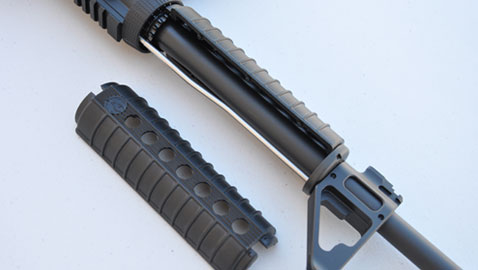 Field stripping the rifle bolt I discovered Ruger had installed a rubber "donut" on the extractor spring to improve function. The rifle is a flattop design with a front sight adjustable for elevation and a flip-up rear sight adjustable for windage. The stock is a standard M-4 style and the front handguards are round plastic without heat shields. The handguards are secured with a trick delta ring. Instead of sliding down and requiring at least three hands for handguard removal, the delta ring unscrews. Why didn't I think of that? The pistol grip is a new Ruger design and the rifle comes with one of the excellent Magpul 30 round magazines.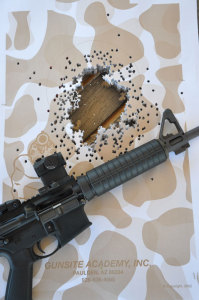 The AR-556 I received came with 1,000 rounds of 5.56 and .223 ammunition from a number of manufacturers and I was asked to "jury test" the rifle. This is one of the processes Ruger uses to test products in the production phase to identify problems and make changes before final production takes place. Coincidentally, the same week I received the rifle I received a new lubricant product called Militec-1 the maker's claim is ideal for lubricating AR rifles. I cleaned and lubricated the new rifle according to the directions supplied by Militec, loaded up about 25 Magpul and Brownells AR magazines and headed to the range. I popped an Aimpoint Mini red dot sight in a LaRue mount on the top rail, set a target at 20 yards and, firing as quickly as I could, proceeded to burn through 1,000 rounds in about 90 minutes. The rifle got hot – I mean REALLY hot – and fired all 1,000 rounds without a single malfunction. Not one. This is extraordinary performance for an AR and I can attribute it to Ruger's build quality and a superior gun lube. Ruger's Mark Gurney tells me they have a couple of AR-556s at the factory that have gone beyond 20,000 rounds without breaking and another that cracked a bolt at about 19,000 rounds so I think you won't have to worry about reliability if you purchase an AR-556. At the start of my test the trigger pull was a creepy 8 pounds, 15 ounces and at the end of the test it had dropped to a much crisper 7 pounds, 15 ounces.
After completing this torture test I field stripped the rifle and merely wiped off the parts like the bolt and bolt carrier. The bore, which I had also prepared with Militec-1, cleaned up nicely with a few passes with a patch. The Militec-1 definitely made the rifle easier to clean, as crud doesn't stick to it. Without lubing the rifle again I took it back to the range with a Burris 1.5-6 Xtreme Tactical scope in a P.E.P.R. mount attached to the rail and fired three round groups for accuracy with these average results at 100 yards off sandbags:
Lake City 5.56 55gr. Match: 1.9"
Gold Dot .223 64gr.: 1.75"
American Eagle 5.56 Tactical 55gr.: 2.4"
Remington .223 55gr. PSP: 1.58"
So far I have about 1200 rounds through this rifle without a single malfunction of any kind. If you're looking for a reliable, inexpensive AR rifle that's going to help burst the bubble you need look no further than the Ruger AR-556.
For more information:
www.ruger.com
www.MiliTecUSA.com
www.magpul.com
www.brownells.com
www.burrisoptics.com
About the Author: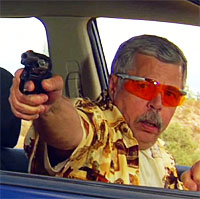 Ed Head is a regular on Shooting Gallery, Gun Stories and Down Range TV. He has worked for almost 30 years in law enforcement, first in the United States Air Force and then with the United States Border Patrol, retiring as a Field Operations Supervisor. During his Border Patrol career, Ed worked in a variety of patrol, investigative and training capacities. Ed has an extensive background as a firearms instructor, having trained thousands, ranging from beginners to police, military and special operations personnel. Having taught at Gunsite for 20 years, Ed first trained there under the world famous shooting school's founder, Jeff Cooper, then later ran the school as the operations manager for more than five years. Ed lives in Chino Valley, Arizona, where he continues to teach and write.