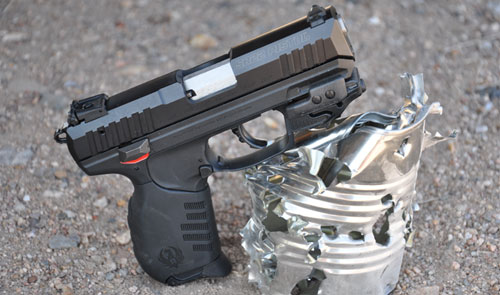 Ruger has sold gazillions of .22 pistols. Starting in 1949 with the Standard Model, and continuing through the many variations of the Marks I, II and III, Sturm, Ruger & Co., Inc. has been very successful in supplying customer demand for accurate, reliable and affordable pistols chambered in .22 LR, the most popular of all cartridges sold.
Customers told Ruger they wanted a .22 pistol with features different from the venerable Standard Model and its variations and the SR 22 is it. That being the case, let's look at some of the features of the SR 22. To begin with, because it uses a polymer frame and aluminum slide, the pistol is a lightweight, weighing in at only 17.5 ounces unloaded. The barrel is 3.5″ long; the pistol measures only 1.29″ in width and is 6.4″ long in overall length. Putting this into perspective, the pistol is light, compact and fits in the palm of my average size hand. Speaking of fitting your hand, the SR 22 comes with two rubber grips, a small and a large, to allow the shooter to fit the pistol to his or her hand. Like its predecessors, the SR 22 magazine holds 10 rounds and the pistol is shipped with two magazines. Sights are 3-dot, and the rear sight is fully adjustable for windage and elevation, an important consideration with .22 pistols that might be re sighted in with a large variety of available ammunition. The front sight is dovetailed into the slide and, like many larger pistols; the slide has front and rear cocking serrations.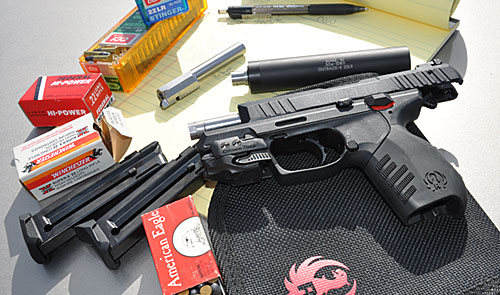 In a departure from previous Ruger .22 pistols, the SR 22 uses a double/single action trigger system with an ambidextrous safety/decocker. Think Sig or Beretta 92, a system in very wide use and familiar to most shooters, particularly those with police or military experience. The double action (DA) trigger pull was just a bit too much for my Lyman electronic trigger pull gauge that only records up to 12 pounds. I'm going to guess the DA trigger pull is about 13 pounds. The single action (SA) trigger pull measures 5 pounds, 10 ounces. Although both trigger pulls are a bit gritty they are easy to manage and I had no trouble getting the hits I wanted whether shooting in the DA or SA modes.
How Does It Shoot?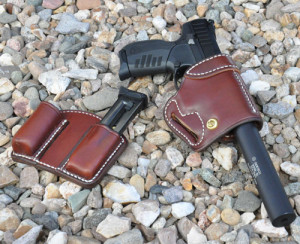 The nemesis of all .22s is the tin can so for my testing I decided to see if this short barreled little pistol would shoot "minute of soup can". Besides, rolling a can with a .22 is way more fun than tediously recording and shooting groups from a benchrest. I did, however, chronograph five different kinds of .22 LR ammunition to see how they would perform in the little pistol. "High Speed" ammo, which is standard .22 LR fare, from Winchester and Federal averaged in the 930 to 980 feet per second (fps) range. CCI Stingers were a bit faster at 1118 fps and CCI Green Tag target ammunition, as expected, was the slowest with an average velocity of 915 fps.
Back to the tin can, thanks to the adjustable rear sight on the SR 22 I was quickly able to get zeroed. After that, shooting from two hands standing, getting hits on the can wasn't a problem back to 25 and 50 yards. This little pistol shoots! It's also reliable. I'm happy to report my shooting with the SR 22 has demonstrated the same result – no malfunctions so far with about 400 rounds fired and one cleaning.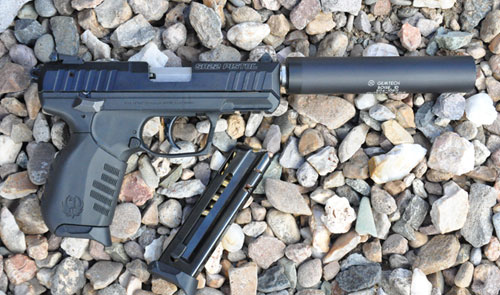 Magazines, Suppressors and Lasers
Anyone familiar with the Ruger MK I, II or III series pistols knows that loading the ten round magazines is a bit of a pain. Holding the small button on the side of the magazine down against considerable spring pressure while dropping rounds into the magazine becomes tiresome rather quickly. Ruger has addressed this with the SR 22, as the magazines are easy to load and the button on the side is shaped in such a way that it's easier to manipulate. Also, in order to get 10 rounds into a shorter magazine, the rounds are staggered instead of in a straight line, and helping to make the magazines easier to load, the magazine spring is a coil spring, not the usual "Z" shaped spring found in most magazines. Ruger ships the SR 22 with two flush and two extended baseplates for the magazines. I like a place to hang my little finger so I installed the extended baseplates; people with smaller hands might find the flush baseplates more comfortable. The SR 22 is set up to work for right or left handed shooters, having a decocker/safety and magazine release button located on both sides of the pistol. The pistol fieldstrips easily for cleaning by way of a takedown tab and goes back together easily as well.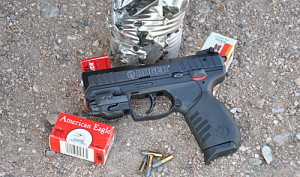 Ruger has announced two new models of the SR22 for 2013. You can now choose between a black or silver slide, and a black slide model with a threaded barrel. I tested the threaded barrel model with an Outback II suppressor from Gemtech. I found that velocities of my test ammo were increased about 30-35 fps with the suppressor attached. There is no need to use "sub-sonic" ammunition in suppressed .22 pistols, as just about all .22LR ammunition comes out of a pistol barrel at velocities under 1,100 fps, and, although not silent, shooting the SR 22 with the Outback II attached is quiet enough so that hearing protection isn't needed.
The pistol has a short accessory rail on the frame forward of the trigger guard allowing for the attachment of lights, lasers or other accessories. My pistol has a mini red light laser from Crimson Trace called the Rail Master mounted on the rail and it looks like it was made for the pistol. The laser can be activated with a tab switch, one on each side, easily reached by the trigger finger. I'm thinking this setup, with the laser and suppressor, may be just the ticket for dealing with a particularly pesky skunk that likes to visit our ranchito in the middle of the night.
This is a nice little pistol. It has all of the features shooters have come to expect in their larger defensive pistols and is reliable, accurate and a lot of fun to shoot. Ruger will probably sell gazillions of them. If you want a great tool for turning soup cans into sieves you might want to consider the Ruger SR 22 or the SR22 Threaded Barrel model.
Reference Links:
About the Author: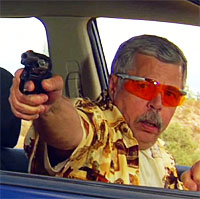 Ed Head is a regular on Shooting Gallery and Down Range TV. He has worked for almost 30 years in law enforcement, first in the United States Air Force and then with the United States Border Patrol, retiring as a Field Operations Supervisor. During his Border Patrol career, Ed worked in a variety of patrol, investigative and training capacities. Ed has an extensive background as a firearms instructor, having trained thousands, ranging from beginners to police, military and special operations personnel. Having taught at Gunsite for 20 years, Ed first trained there under the world famous shooting school's founder, Jeff Cooper, then later ran the school as the operations manager for more than five years. Ed lives in Chino Valley, Arizona, where he continues to teach and write.