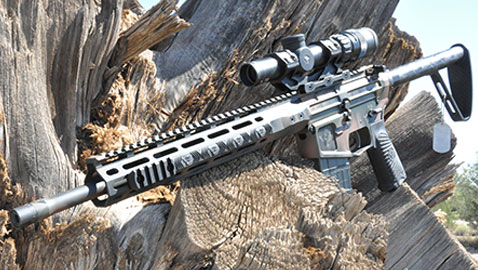 By any measure Bill Wilson is a highly successful businessman and self-made man. Trained as a watchmaker he became interested in competitive shooting and competed with some success in early IPSC matches. This led to tinkering with pistols, building pistols for friends, and eventually, starting his gun shop. Now, a major force in the industry, Wilson helped start IDPA, makes arguably the finest lineup of pistols, rifles, shotguns and gun parts available anywhere and has a passion for perfecting hog calibers and rifles.
You see, these days Wilson spends a lot of time on his Texas ranch and as you might suspect the place is crawling with feral hogs. He's killed hundreds of them and has the perfect laboratory for experimenting with rifles and loads. Settling on the AR pattern of rifles, Wilson has run through all the options, to include: 5.56, .308, 6.5 Grendel, 6.8 SPC, 7.62X39, 300 Blackout, 300 Whisper, 7.62X40 and 7.62X40WT. For one reason or another Wilson found each of these to be lacking and eventually concluded that what he was after was a .30 caliber bullet and cartridge that would feed through a .223/5.56 AR rifle with about the power of the venerable .30-30. This, he reasoned, would give the right balance of accuracy and power with mild recoil and reliability and would be suitable for hunting deer and hogs while having target shooting and tactical uses as well. The result is the 300 HAM'R.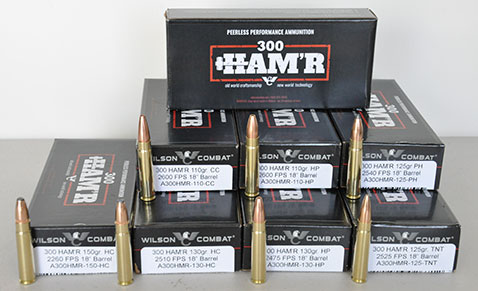 Why HAM'R? Well, earlier, Wilson Combat came out with a cartridge called the 458 HAM'R so it seemed reasonable to call the 30 caliber round the 300 HAM'R. Calling it a 300, rather than a 7.62 begs direct comparison to the successful 300 Blackout. As it turns out, the 300 HAM'R exceeds the performance of 300 Blackout ammunition with similar bullet weights by quite a lot – as much as 300 feet per second velocity and 40% more energy. The case is longer, holds more powder and is about as big and long as it can be and still function with a standard bolt. To quote Bill Wilson, "I'm going to make a bold claim that I can back up with proven performance. The 300 HAM'R is the most powerful 5.56 based .30 caliber cartridge that can be fired from the AR15 platform utilizing a standard .223/5.56 bolt."
The other cartridge in this class is the 7.62X39. While it outperforms the 300 Blackout it is exceeded by the 300 HAM'R. Wilson's testing also revealed the HAM'R, with a 1:15 twist barrel, was much more accurate than either the 300 Blackout or 7.63X39.
To give you an idea where the 300 HAM'R stands, here are some velocity and energy figures from Wilson's testing, all from a 16.25" barrel  (MV= muzzle velocity, FP= foot pounds, ME= muzzle energy):
300 HAM'R
Sierra 125gr. SBT: 2530fps MV, 1771FP ME
7.62X39
Remington 125gr. Cor-Lokt: 2365fps MV, 1552FP ME
300 Blackout
125gr HP: 2175fps MV, 1313FP ME
Comparing the 300 HAM'R to the .30-30 Winchester we find:
300 HAM'R
Sierra 135gr. HP Varminter: 2375fps MV, 1691FP ME
Speer 150gr. FNHC: 2250fps MV, 1686FP ME
.30-30 Winchester (Hornady website information, barrel length not specified but assume 20-24")
Hornady 140gr. MonoFlex: 2465fps MV, 1889FP ME
Hornady 150gr. RN: 2390fps MV, 1902FP ME
Wilson Combat is producing their own 300 HAM'R ammunition using Starline brass. He also publishes reloading information should you wish to roll your own using  .223/5.56 cases.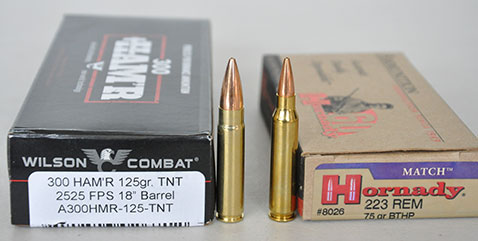 Here's a rundown of the available Wilson ammunition:
110gr. Sierra HP-V, 2600fps, 1651FP ME
110gr. Lehigh CC, 2600fps, 1651FP ME
125gr Sierra SBT PH, 2525fps, 1770FP ME
125gr Speer TNT, 2525fps, 1770FP ME
130gr Speer HP, 2475fps, 1769FP ME
130gr Speer FN HC, 2510fps, 1819FP ME
150gr. Speer FN HC, 2260fps, 1701FP ME
What does this mean? It means this new caliber is an almost perfect ranch rifle round for AR 15 platform rifles, requiring nothing more than a barrel change and the use of 300 Blackout magazines. It outperforms the 6.8 SPC, the 300 Blackout and 7.62X39 while delivering performance comparable to a .30-30 in a smaller package.
The Rifles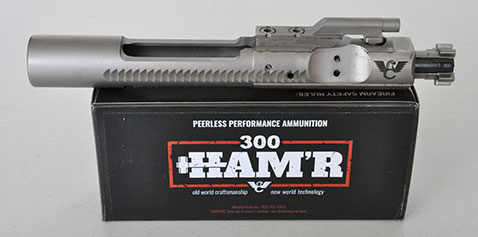 Along with the new ammunition, Wilson Combat is introducing five AR pattern rifles chambered for the 300 HAM'R. They are:
Ultralight Ranger Model
Ranger Model
Tactical Hunter Model
Lightweight Hunter Model
Bill Wilson Ranch Rifle Package
The test rifle I have in my hands is the Ultralight Ranger Model. It's a very attractive rifle, done up in a green/black/brown camo Armor-Tuff finish. It has a Smoke/Wilson Combat fixed carbon fiber and composite stock with a length of pull of 12.75 inches. It has a full-length flattop Picatinny rail with no iron sights. My sample rifle came with a Trijicon 1.5-4 scope in a Wilson Combat mount. The forend is a Wilson Combat M-LOK with three Wilson Combat rail covers. There is an additional short piece of rail mounted on the left side of the forend for attaching lights, lasers and the like. The barrel is a thin contour, 16 inches long and is threaded 5/8X24 with a thread protector in place. About the only non-Wilson Combat part on the rifle is the BCM Gunfighter charging handle. The bolt and carrier are Premium Mil-Spec and are finished in NP3 for corrosion resistance and lubricity.

The trigger is sensational, by far the best out-of-the-box AR trigger I've experienced. It's a Wilson Combat Tactical Trigger Unit M2 set at four pounds. My Lyman electronic trigger tester gizmo recorded an average of 10 pulls at 3.75 pounds. The trigger breaks cleanly after a bit of take-up and there is no over-travel. Perfect! Lastly, the rifle came with one 300 Blackout Lancer Advanced Warfighter 20 round magazine and a very nice padded nylon Wilson Combat carrying case. Everything about this rifle is First Class.
Since I've run out of space you'll have to wait for Part II to get the lowdown on how this rifle shoots. See you then.