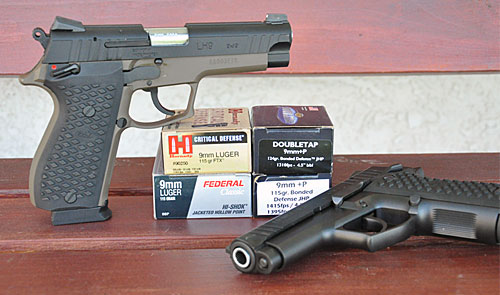 When Charley Pulit at Novak Sights called to let me know about a new 9mm pistol I was wondering if I had been transported to another dimension. After all, Novak's is a custom 1911 pistol shop, as well as the foremost maker of combat pistol sights. So why would Charlie encourage me to take a look at a double-action 9mm pistol, even if it was being sold with Novak sights? Charley explained that this new Lionheart pistol wasn't really a double action or a single action design, but something else. He said, "I could try to explain it but you have to try it yourself. I think you're going to be impressed."
If you've been around the gun business for a few years you will remember when a South Korean company called Daewoo began importing civilian versions of the rifles and pistols they made for the Korean military. This was back in the 80s and 90s and during the period when these guns were imported there were several different importers involved. The pistol that's pertinent to this report was called the DP51, a version of the pistol adopted by the Korean army as the K5 in 1990. As far as I can tell, importation of the DP51 stopped in about 1996 and Daewoo is gone, replaced by a company called S&T Motiv, the only small arms manufacturer in South Korea. Now, a new company has been formed in Redmond, Washington to import an updated version of the K5 made to their specifications. The company is Lionheart Industries and the pistol is the LH9.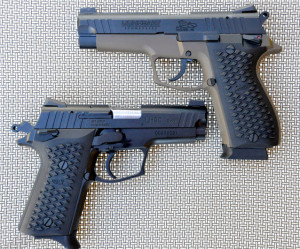 I received two pistols for testing. One is the full size LH9 and the other is an abbreviated model branded the LH9C. The LH9 is a two-tone model in black and brown and the LH9C is all black. Both pistols are coated in Cerakote, a finish widely used in the firearms industry that's as attractive as it is durable. But what sets these pistols apart from a rather crowded field of 9mm pistols is the trigger action, and this is what Charlie was referring to when he told me I had to try it for myself. Called DA+, for Double Action Plus, this trigger is neither a true DA or SA. When set for DA+ by pushing forward on the cocked hammer, the trigger has the lightness of a single action trigger with the length of pull of a double action trigger. I know, it sounds weird, but it shoots well and solves the problems associated with long, rough double action triggers that are all too common these days.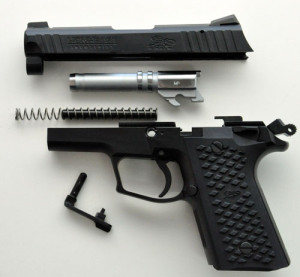 It might be best to describe loading the pistol to explain how this DA+ trigger works. The pistol features an ambidextrous thumb safety and you can cycle the slide with the safety on. I recommend activating the safety, inserting a magazine then running the slide to chamber a round. The pistol is now in the cocked and locked mode and can be carried this way if that's your preference. With the safety on (up) the trigger is disconnected and cannot be used to fire the pistol. Or, you can de-cock the pistol by pushing forward on the hammer. This safely drops the hammer (there is a hammer block and firing pin block to prevent firing) and puts the pistol in a quasi-double action mode. You can leave the thumb safety on or disengage it at this point according to your preference. In this mode the trigger pull has a long length of pull for the first shot like a double action but has a light trigger pull weight with a short reset like a single action. The triggers on both of my sample pistols break cleanly at just under 6 pounds in the DA+ mode. Should you wish to you can hold back the hammer, press the trigger and lower the hammer to get the pistol into a true DA (long trigger travel and 11 – 15 pound trigger pull) mode but I don't see the point. During my range sessions I used the pistols in the DA+ mode with the trigger forward, hammer down and safety off but I think I would engage the safety if I were to find myself carrying one of these pistols for defensive purposes. Regardless, my advice is to train with the pistol the way you are going to carry it and practice until it becomes second nature.
The LH9 has a 4.1" barrel, weighs 25.9 ounces and comes with a 13 round and a 15 round magazine. The LH9C has a 3.6" barrel, weighs 24.2 ounces and comes with two 10 round magazines. The larger 13 and 15 round magazines can be used in the compact LH9C. Both pistols feature forged steel slides and forged aluminum frames and both came with genuine Novak sights with a plain black Lo-Mount rear sight and a white dot front sight. Since the dovetails for the sights are Novak-spec you can change the sights to any color preference you have in mind, including night sights and fiber optics. My pistols both arrived in zippered carry cases that included the pistol, two magazines, a complete set of cleaning accessories and a tube of FrogLube gun oil. Field stripping for cleaning is easy. I recommend you read the instruction manual if you buy one of these pistols so I won't go into it here.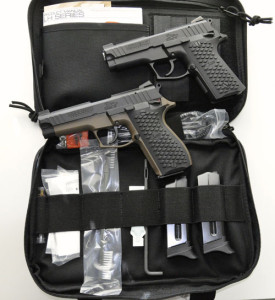 So how do these pistols shoot? Better than I expected. I quickly got used to the idea of pushing the hammer forward to de-cock before holstering in the G-Code holsters made for these two pistols (www.range5.com). The post shooting sequence is: Finger straight as you come off-target to low ready, scan, breathe, push the hammer forward with the support side thumb, engage the thumb safety (or not) and carefully holster. The combination of the sight picture provided by the Novak sights and the light DA+ trigger pull made getting hits easy from close ranges out to 25 yards. There were no malfunctions of any kind with the defensive ammunition I used for testing. This ammo included Federal's 9BP JHP load, Hornady's Critical Defense FXT load and two loads from DoubleTap Ammunition.
These are nice pistols. I like them both but lean towards the larger of the two, the LH9. It seems to feel a little better in my hand and I like the look of the brown/black two-tone finish. Suggested retail price for the LH9 is $615 and the LH9C lists for $595. If you're in the market for a well made, reliable, fully featured 9mm pistol you might want to give the Lionheart pistols a look.
More information is available at:
www.novaksights.com
www.lionheartindustries.com
www.doubletapammunition.com
www.hornady.com
www.federalammunition.com
www.froglube.com
About the Author: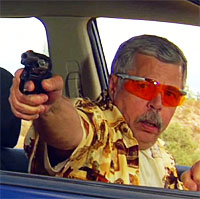 Ed Head is a regular on Shooting Gallery, Gun Stories and Down Range TV. He has worked for almost 30 years in law enforcement, first in the United States Air Force and then with the United States Border Patrol, retiring as a Field Operations Supervisor. During his Border Patrol career, Ed worked in a variety of patrol, investigative and training capacities. Ed has an extensive background as a firearms instructor, having trained thousands, ranging from beginners to police, military and special operations personnel. Having taught at Gunsite for 20 years, Ed first trained there under the world famous shooting school's founder, Jeff Cooper, then later ran the school as the operations manager for more than five years. Ed lives in Chino Valley, Arizona, where he continues to teach and write.