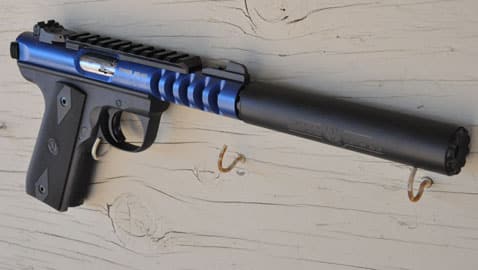 Are you surprised Ruger has gotten into the silencer business? While admitting they caught me by surprise when I was shown the new Silent-SR – silencer/silentsr, get it? – I should have seen it coming. After all, Ruger has been producing rifles and pistols with threaded barrels for several years, silencers are growing in popularity and there is a growing movement to take them off the federal registry that requires a $200 tax stamp.
Whether you call them suppressors, silencers, mufflers or cans, these shooting accessories are here to stay.
You can review the specification on the Silent-SR on Ruger's website but here are the basics: With a ½" – 28 thread the Silent-SR is made to screw onto barrels in the .22 LR class. The Silent-SR is stoutly constructed and is made of titanium, stainless steel and aluminum so it can also be used with .22 Magnum and .17 HMR calibers as well as .22LR. It's a little under five and a half inches long and weighs 6.3 ounces, meaning it's about the same size and a tad heavier than some of the all-aluminum suppressors in this class but, presumably, stronger and longer lasting. As with Ruger's firearms, the Silent-SR is all-American made and is produced in Ruger's Newport, New Hampshire factory.
Unlike some suppressors, the Silent-SR is user serviceable and is easy to take apart for cleaning using the wrench that comes packaged with the silencer in a nylon pouch. The end caps come off and the baffle stack can be removed and separated. The baffles can be re-assembled in any order, so you need not worry about keeping them straight. The outer tube can be indexed to the end caps so the lettering on the tube lines up to the side and can be read when the silencer is attached, a feature I appreciate when taking pictures.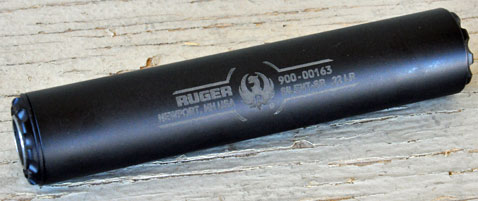 Silencing any firearm is a function of several factors, to include barrel length, ammunition and the efficiency of the silencer. Do silencers render firearms silent? No, they reduce the noise signature significantly but the quietest ones in my experience are those attached to rifles firing .22 LR sub-sonic ammunition. To keep things simple let's just call any ammunition that leaves the muzzle at less than 1,000 feet per second (fps) sub-sonic. This means the bullet doesn't achieve the speed of sound and there is no supersonic "crack". Can you shoot supersonic ammunition with a silencer? Sure, it will be quieter than shooting without a silencer but there will be more noise due to that supersonic crack. When we're talking about .22 LR ammunition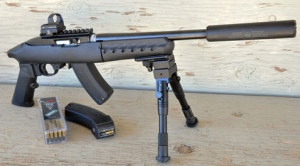 most of the standard velocity ammo and all of the target grade ammunition will generally stay under 1,000 fps when fired from a pistol and will give the quietest results when using a silencer. Some of this ammo will also be sub-sonic when fired in rifles but now that manufacturers are producing ammunition marked as sub-sonic it makes finding quiet ammo for the rifles easier. While the high velocity stuff is pretty quiet as well when fired through the Silent-SR, the supersonic crack is going to make some noise but not so much you need ear protection, one of the great reasons for shooting with a silencer; it's easy on the ears for the shooter and bystanders and eliminates the risk of hearing loss, something all of us who have been shooting for many years have experienced.
For the ultimate in .22 LR silenced shooting, try attaching a good silencer to a .22 rifle. When testing the Silent-SR I had an opportunity to shoot it with Ruger's new bull barreled 10-22 Takedown and I have to tell you the noise from the bolt clicking back and forth was pretty much all I could hear. If you want to eliminate even that sound, attaching the silencer to a bolt-action rifle firing sub-sonic ammunition produces the closest thing to silent shooting I have experienced.
Ruger has a corporate policy of spurring growth in the company with new products and the Silent-SR certainly qualifies as a new product. I think you can expect this .22 caliber silencer to be the first in a new product line, and, if I had to guess, and it's purely a guess, I would expect to see a 5.56 or 7.62 caliber silencer come out next. With a suggested retail price of $449.00 I predict the .22 caliber Silent-SR is going to sell like the proverbial hotcakes.