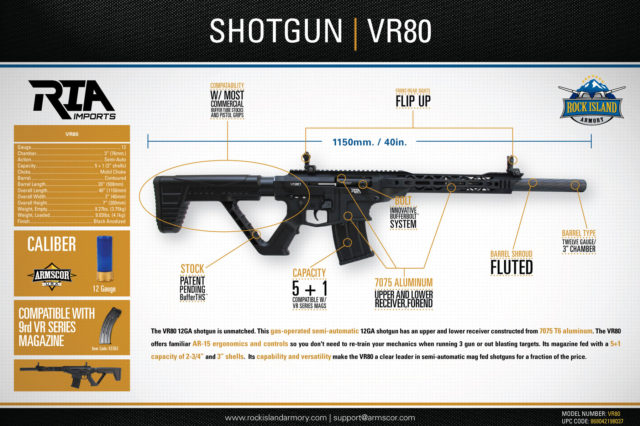 As I mentioned on Facebook, I've been working with the ARMSCOR/Rock Island VR-80 semiauto shotgun for the last couple of weeks, and I have to say it is living up to my admittedly high expectations. Here's their propaganda piece:
"The VR80 12GA shotgun is unmatched. This gas-operated semi-automatic 12GA shotgun has an upper and lower receiver constructed from 7075 T6 aluminum. The VR80 offers familiar AR-15 ergonomics and controls, so you don't need to re-train your mechanics when running 3 gun or out blasting targets. It's magazine fed with 5+1 round capacity of 2 3/4″ and 3″ shells. Its capability and versatility make the VR80 a clear leader in semi-automatic mag fed shotguns for a fraction of the price."
The VR-80 comes with 2 five-round magazines, but 9- and 19- round mags are available. Plus, the aftermarket is already coming on-line…Tooth And Nail Armory   is already offeriing a plethora of sticks from 2 rounds to 29 rounds, plus a 20-round drum. They also have a drop-in trigger coming for the VR, and yes, it does need one.
I was lucky enough to prevail on Tombstone Tactical to send me 5 of the 9-round magazines, which are in short supply. I had no problems with the 5s or the 9s, except that they are a screaming bitch to load. That's technical terminology, BTW.
I ran it in a 3-Gun match on Saturday, and it performed like a beast. I was using Fiocchi Dover and Hunting loads — it wants to run hot — through a Modified choke and it pretty much rran like a top. Since a box magazine puts the gun in Open class, I took advantage of that and added a Sig Romeo4 red dot.
This will be the subject of this week's DOWN RANGE Radio, so LISTEN UP!
BESIDES, I'm testing out the features here on MICHAELBANE.TV, which, after years on Blogger requires a whole new skillset.