It doesn't make any sense. I've always felt uncomfortable and poorly armed when carrying a 5 shot revolver but I'm perfectly happy with a 6 shot. Does that one extra round make a big difference? Let me put it this way; when I was carrying a 5 shot snubbie Smith & Wesson revolver off duty and working in plain clothes the Universal Cop Dream troubled my sleep. There are many variations but mine always involved 5 shot revolvers and included features like running out of ammunition in gun fights, bullets bouncing off bad guys or dribbling out the end of the barrel and other horrifying scenes.
For many years Smith & Wesson and Colt competed in the revolver market and one of the big differences between them was the small S&Ws held 5 rounds while the short- barreled Colts held 6. Unfortunately, Colt got out of the revolver business some years ago and famous small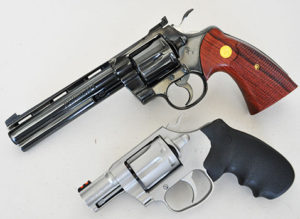 revolvers like the Detective Special and Cobra went away, seemingly forever. But wait, there's more – Colt now offers a 6 shot, short-barreled revolver in their lineup and we first got a look at it during a writer's conference at Gunsite this past November. Called the Cobra it's reminiscent of past Colts even if the name is a bit confusing. You see, the old Cobra was a lightweight revolver with an alloy frame, while this new revolver is all steel. When we got a look at the innards the surprise and confusion kicked up another notch. This new Cobra uses a "V" mainspring and to those of us who have been around for a while that meant one thing only: Python, the revolver everyone hopes Colt will bring back and one of the great revolvers – some say the greatest – of all time. The Colt folks are pretty tight lipped about this possibility but slyly revealed that the Cobra action is "scaleable". Stay tuned.
The new Cobra I have at hand is a little different than the Cobras we shot at Gunsite, and later at the SHOT show. Those revolvers had a light, buttery smooth action reminiscent of – you got it – the Python. The ones I shot were extremely well made, highly accurate and completely reliable despite that very light action. Of course, therein lies the rub, as the Bard reminded us. Light revolver actions often equate to misfires and I heard rumblings at Gunsite and SHOT that the Cobras others were shooting weren't going bang all the time. Colt must have heard the same complaint, as the test revolver I have at hand has a very nice action but it is noticeably stiffer than the revolvers I handled earlier in the year. According to my electronic trigger gizmo the double action pull is a smooth 8 ¾ pounds – remarkably light for a revolver – and the single action trigger breaks crisply at 3 ¾ pounds. In my experience, not since the days of Colt's former revolver glory has any manufacturer produced a double action revolver with a trigger this good.
You can look up the Cobra specifications on Colt's website so I won't bore you. What I think you should know is the Cobra is a stainless steel revolver so it's a little heavier than some of the lightweight 5 shot snubbies on the market. It has an empty weight of 24.5 ounces and a loaded weight of about 27.2 ounces with six rounds of defensive hollowpoint ammunition onboard. That means the Cobra is going to make your trousers droop if you drop it in a pocket. Ladies won't like the added weight in a purse but it works fine in a belt holster or nightstand. The other side of the weight equation is how the revolver shoots. Lately, folks seem infatuated with theidea of ultra-lightweight .357 Magnum revolvers. Weighing as little as 14 or 15 ounces loaded these revolvers carry easily but are terrors to shoot. As a matter of fact, I'm going to go on record and state the nastiest revolvers I've ever fired are these lightweight blasters stoked with .357 Magnum defensive ammunition. Nobody, and I mean nobody, can possibly enjoy shooting these monsters and I would strongly suggest those who have them stick to .38 Special ammunition, which is bad enough. The Cobra, on the other hand, is a sweet shooting revolver, even with the stoutest of .38 Special ammunition. That extra weight and the very well designed Hogue rubber grip make a huge difference in shooting comfort.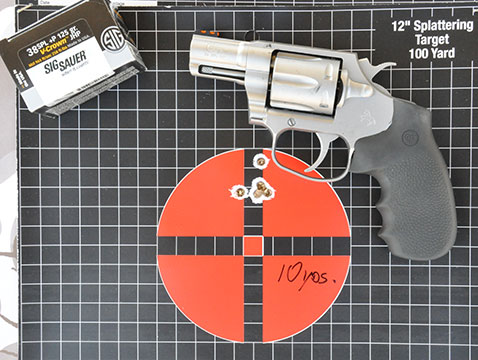 I started my range work by having a go at the Dot Torture drill. Requiring 50 rounds and fired at 3 yards it takes considerable concentration to pass. I fired all 50 rounds using .38 Special wadcutter target ammunition shooting double action. Oddly, the Cobra was shooting to the left of my point of aim and I managed to fail Dot Torture by firing one round outside the little 1 7/8" circles. Moving back to 10 yards I fired a cylinder-full with Sig Elite defensive ammo and the revolver shot back to center. Firing several other defensive loads in various drills I found that lining up the red fiber optic front sight in the rear notch gave me center hits all the way back to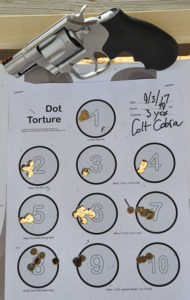 25 yards. Through about 100 rounds of mixed loads the Cobra was utterly reliable whether shooting in the single (cocking the hammer) or double action mode. This is a nice, accurate revolver that's easy to shoot well.
Back in the heyday of revolvers there were few choices in defensive .38 Special ammunition. The infamous 158 grain round nose lead "Police" load was a notoriously poor fight stopper and target wadcutters weren't much good either. As an example, I once tried to deflate a smuggler's tire by firing a wadcutter into the sidewall and the bullet bounced off and almost beaned me in the head. Eventually, Super Vel and Lee Jurras came along and showed the way for defensive pistol ammunition and these days we have a wealth of really good ammunition to choose from. A new load from Federal has gotten my attention and I'm now using it in my .38 snubbies. Looking like the inverted hollow-base wadcutter bullets we used to hand load it's actually a 135 grain hollowpoint. This Federal HST + P load is designed to balance both penetration and expansion and shoots great in the Cobra.
We've been waiting and hoping for Colt to get back into the revolver business and we can only hope the Cobra is the first of many to come. Could there be a Python in the future? In the meantime the Cobra is a nice, reliable .38 Special revolver and if the rest of them are like my sample I can recommend it without reservation.
For more information:
About the Author: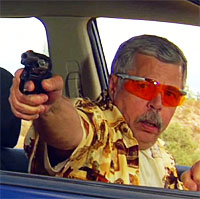 Ed Head is a regular on Shooting Gallery, Gun Stories and Down Range TV. He has worked for almost 30 years in law enforcement, first in the United States Air Force and then with the United States Border Patrol, retiring as a Field Operations Supervisor. During his Border Patrol career, Ed worked in a variety of patrol, investigative and training capacities. Ed has an extensive background as a firearms instructor, having trained thousands, ranging from beginners to police, military and special operations personnel. Having taught at Gunsite for 20 years, Ed first trained there under the world famous shooting school's founder, Jeff Cooper, then later ran the school as the operations manager for more than five years. Ed lives in Chino Valley, Arizona, where he continues to teach and write.