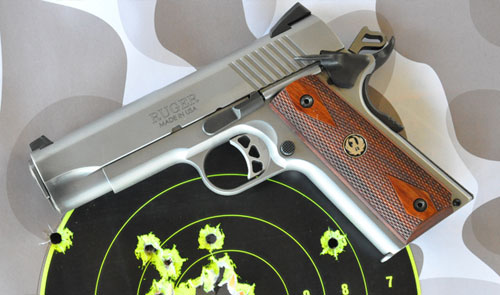 Ruger surprised the firearms industry when they introduced an economical, nicely featured and well made 1911 pistol two years ago. Demand has far exceeded supply even though Ruger has more than doubled production at their factory in Prescott, Arizona. Given this imbalance you might wonder why Ruger would launch a new version of the SR1911. The answer lies in one of the keys to Ruger's growth in recent years – new products make up well over 30% of Ruger's record sales. Consumers want Ruger products, especially new ones, and Ruger is doing their best to keep customers happy. The SR1911 Commander is the next step in the SR1911 product line and if past demand is any indication Ruger will be hard pressed to keep up.
The Commander
Okay, so what's a Commander? It's a 1911 pistol with a 4.25" barrel, as opposed to the 5" barrel of a full sized 1911. You might ask, so what's the big deal? Do three-quarters of an inch make a difference? The answer is, yes, very much so. The reduction in barrel length makes for a more balanced, easier to carry, and, to my mind, a nicer looking pistol that shoots as well as the full size version. The100% American made Ruger Commander, with its shorter barrel and slide also weighs several ounces less than the 5" barreled SR1911. According to my scale, the Commander weighs 34.2 ounces bare and 42.5 ounces with the magazine fully loaded and an eighth round in the chamber.
The SR1911 Commander comes equipped with a lightweight titanium firing pin and heavy-duty firing pin spring in lieu of a firing pin safety. This setup is referred to as the Series 70 system, so named after a Colt design. This means the pistol is built the way it was intended by the great John Moses Browning, without any parts mandated by lawyers that make the gun more complicated than it needs to be. Field stripping is easier and trigger pulls are crisper on 1911s with this setup so Ruger wisely chose to design the pistol the "right" way. Ruger consulted with customers and 1911 experts when they designed the SR1911, most notably Wayne Novak, who probably knows more about 1911 pistols than anyone. As a result, Ruger got the SR1911 right, and the SR1911 Commander is executed correctly as well.
More Features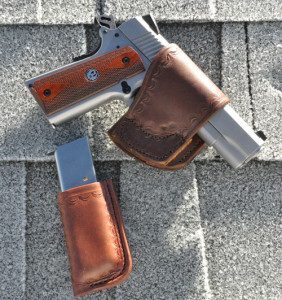 The Ruger SR1911 Commander is made mostly of stainless steel with the frame and slide being machined forgings. The stainless barrel and bushing are match grade and properly fitted for accuracy and reliability. The slide and frame are finished in a matte texture offset by blackened steel parts, to include the extended magazine release, beavertail grip safety, checkered, flat mainspring housing, slide lock and extended thumb safety. It's a good looking pistol, set off by the beautiful, walnut double diamond pattern checkered grips with inlaid Ruger escutcheons attached with black hex-head grip screws.
The sights are three dot, meaning there are two white dots on the rear sight and one on the front. The rear sight is a genuine Novak Low Mount, without a doubt the best combat pistol sight ever made. The sights sit in Novak dovetails, meaning they can be changed easily without the need for expensive machining. If you want black sights, tritium night sights, colored sights or, my favorite combination, a black Novak rear sight with Novak's gold bead front sight, all you have to do is contact Novak's (www.novaksights.com).
The Ruger Commander has a skeletonized aluminum trigger and the factory sets the trigger pull to between 4 and 5 pounds. My sample arrived with a trigger averaging 4 lbs., 14 ounces, with minimal take-up, a tiny bit of creep and a crisp let-off with no over-travel. After dry firing and shooting, according to my Lyman electronic trigger pull gizmo, the trigger has gotten a little bit lighter, at 4 lbs., 11 ozs. and the trigger creep has disappeared.
The Ruger Commander shares other features with the larger SR1911. These include a lightened combat style hammer and angled cocking grooves on the rear portion of the slide. The magazine well is beveled and combines with the previously mentioned extended magazine release to make reloading smoother and quicker. The ejection port is lowered and beveled to assist the ejection of fired cases.
The SR1911 package consists of the pistol, a soft case, two 7 round stainless steel magazines, a barrel bushing wrench, a well done instruction manual and the obligatory huge padlock with Ruger logo, useful for locking up most anything you need secured. Ruger (www.shopruger.com), Brownells (www.brownells.com) and many other sources sell additional 1911 magazines. This pistol is a good example of everything you need and nothing you don't. It won't cost you an arm and a leg, as suggested retail is $829. It's a lot of pistol for the money.
A Modern Rendition
Some folks think the 1911 platform is outdated and consumers only want "modern" handguns made of plastic. So how to explain record sales and the continuing popularity of modern 1911 pistols? It's because good 1911s, and the Ruger SR1911 Commander is a good one, can compete with any pistol in terms of accuracy, reliability, power or any other standard shooters compare when choosing pistols. Ruger pistols have a reputation of providing the shooter with reliable value and the SR1911 Commander is no exception. As one of the marketing people at Ruger told me, "Trying to keep up with demand is a nice problem to have."
Click here for Part II, a shooting report on the Ruger SR1911 Commander.
Reference Links: Ruger SR1911 Commander
About the Author: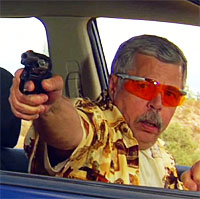 Ed Head is a regular on Shooting Gallery and Down Range TV. He has worked for almost 30 years in law enforcement, first in the United States Air Force and then with the United States Border Patrol, retiring as a Field Operations Supervisor. During his Border Patrol career, Ed worked in a variety of patrol, investigative and training capacities. Ed has an extensive background as a firearms instructor, having trained thousands, ranging from beginners to police, military and special operations personnel. Having taught at Gunsite for 20 years, Ed first trained there under the world famous shooting school's founder, Jeff Cooper, then later ran the school as the operations manager for more than five years. Ed lives in Chino Valley, Arizona, where he continues to teach and write.