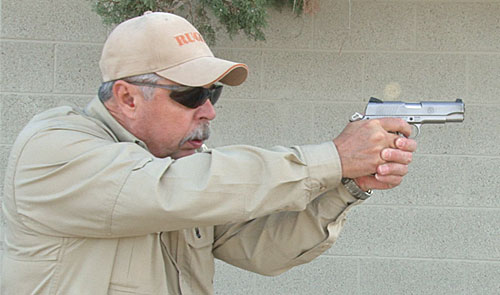 Down on the border the Cuarenta y Cinco 1911 is respected with an awe verging on worship. In Mexico itself, the big .45 is restricted to the military but one in .38 Super is often found slipped into the waistband just behind the hip of Mexican police officials, especially Los Federales. Not facing caliber restrictions, many American officers in the border region choose to carry a .45, making them the envy of their Mexican counterparts. The pistol is often adorned with fancy grips made of silver and gold and embellished with Mexican eagles. The .45 most coveted is the Commander. Recently I've been shooting the new SR1911 Commander, a stainless steel and black Commander size version of Ruger's popular SR1911 pistol. As you might imagine, I rather like it.
Range Sessions
When testing a new pistol I usually start off with a series of drills working back to 25 yards from 3 yards. Called the 250 School Drill at Gunsite, it goes like this:
3 yards, a single shot to the head in 1.5 seconds. Repeat
7 yards, a pair to the body in 1.5 seconds.
10 yards, a pair to the body in 2.0 seconds.
15 yards, a pair to the body from standing to kneeling in 3.5 seconds.
25 yards, a pair to the body from standing to prone in 7.0 seconds.
All shots are fired from the holster. The "body" portion of the Gunsite Option target is an 8" circle and the "head" scoring portion is about the size of a 3 X 5 card. And, full disclosure here, I usually shoot the 15 yard stage from standing and the 25 yard stage from braced kneeling. The Ruger SR1911 Commander didn't disappoint me, as I managed to fire a perfect school drill and make the times. Any time I can do this with a brand new pistol, fresh out of the box, I know the pistol is a shooter. Further shooting proved the sights to be exactly "on" for my eyes. Whether firing hammers at close range or more deliberate shots back to 25 yards, the pistol hits exactly where I aim. In fact, shooting from braced kneeling at 25 yards, I had no trouble keeping hits in the head box portion of the target shooting Remington and Black Hills 230 grain full metal jacket "ball" ammunition.
I'm a practical/defensive shooter so I don't particularly enjoy shooting groups from a bench rest over sandbags. Nonetheless, in the interest of science, I tested the Ruger Commander. Groups with most of the ammunition I tried averaged in the 4 inch range but when I shot some of my dwindling stash of military Winchester match 230 grain hardball the groups tightened to about 3 inches. This was getting interesting, so I decided to give Remington 185 grain match wad cutter a try. Considering that wad cutter .45 ammo doesn't usually feed in pistols not set up for match shooting, I was pleasantly surprised when the match wad cutter not only functioned perfectly but produced 2 inch groups at 25 yards, proving the Commander shoots better than I do.
[imagebrowser id=4]
Commanders require heavier recoil springs than full size 1911 pistols. Where a 5" barreled pistol may use an 18 pound spring, the Commander usually runs a 20. Sometimes a stouter spring is called for if heavy loads are going to be fired. Knowing I was going to be testing some very hot ammo from Doubletap Ammunition , I ordered 22 and 24 pound Wolff variable rate recoil springs from Brownells and ran the Commander with the 22 pound spring. Recoil was stout with the heavier Doubletap loads and the pistol functioned well. For the heaviest Doubletap loads I would recommend the 24 pound spring.
The pistol was shooting so accurately I decided to press my luck on a steel target at 100 yards. Using a neck hold (perching the "head" atop the front sight) I was rewarded with numerous hits on the torso sized target while shooting from a solid braced kneeling position. I wouldn't want to mislead you and give the impression I didn't miss a few – I did – but I should mention the wind was kicking up a strong crosswind and all my misses were on the downwind side of the target. I'll take any excuse I can get and take credit for every good shot I make; after all, I'm a pistol shooter.
The 7 round Ruger stainless steel magazines Ruger provides with the pistol have a flat, flush fitting baseplate, while Ruger also has available 8 round magazines with a thicker baseplate. The 7 round magazines work fine but I prefer the 8 round magazines for several reasons. First, why not carry one more round in the pistol if you can? Second, the extended baseplate makes seating the magazine more positive and prevents the blood blisters I get on my hand when my tender flesh gets pinched between the magazine and the pistol. And lastly, the extended baseplates are removable, making disassembly and cleaning of the magazines easy. As far as I can tell, the SR1911 Commander doesn't have a preference for magazine brands. I shot the Ruger 7 and 8 rounders, as well as a mix of 8 round magazines I use constantly in my 1911s and could not detect a difference. If you're looking for a good selection of 1911 magazines go to www.brownells.com.
Commander sized 1911 pistols provide the perfect balance between ease of shooting and ease of carry and one of the better holsters for carrying and training is a classic Yaqui slide. I like these holsters because there is no cant – the draw is straight up – which I prefer, and I can position the holster with the muzzle pointing down the seam of my jeans for range use or position the slide with the muzzle behind the point of my hip for concealed carry. Lacking a suitable Yaqui slide for the Commander, I got ahold of Rob Leahy at Simply Rugged Holsters and asked him to make one for me. As this isn't a holster Rob normally stocks, he exceeded my expectations by designing and making several classic Yaqui slides and matching magazine pouches.
A few years ago you could have spent a small fortune buying a pistol with all the features standard on the Ruger SR1911 Commander. For $829 suggested retail it's a lot of pistol and a very good basis for modification to meet your personal preferences. Or, just leave it alone and enjoy shooting it as is. In either case, I think you're going to be pleased.
Reference Links: Ruger SR1911 Commander
About the Author: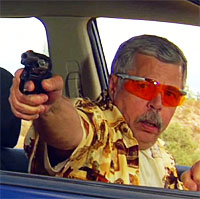 Ed Head is a regular on Shooting Gallery and Down Range TV. He has worked for almost 30 years in law enforcement, first in the United States Air Force and then with the United States Border Patrol, retiring as a Field Operations Supervisor. During his Border Patrol career, Ed worked in a variety of patrol, investigative and training capacities. Ed has an extensive background as a firearms instructor, having trained thousands, ranging from beginners to police, military and special operations personnel. Having taught at Gunsite for 20 years, Ed first trained there under the world famous shooting school's founder, Jeff Cooper, then later ran the school as the operations manager for more than five years. Ed lives in Chino Valley, Arizona, where he continues to teach and write.