This week Michael talks about the revival of the lowly shotgun as a premiere home defense firearm…plus, a secret look at Michael's world-class baked beans!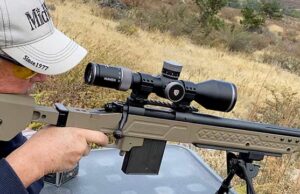 00:16:34
Triggered
This week we take a look at our prime "test bed" for scopes, the FN TSR (Tactical Sport Rifle) in its many iterations and our newest long-range scope, the Maven RS.4 5-30X FFP. Plus, have you ever heard of TACRIG holsters? Well, here's your chance.
This week MBTV ON THE RADIO discusses the rise of violence in American cities and, sadly, the dangers of being Good Samaritan. Plus, reloading tips for new shooters and an update on the Volquartsen Summit.
This week Michael talks about Iterration 4 of his 10/22 Precision Rifle, now with the addition of a chassis system from Scott McRee!