This week we start working with the Anaconda, Colt's strikingly good looking .44 Magnum. And it shoots as well as it looks…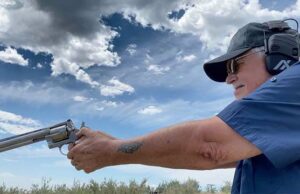 00:16:25
Triggered
Today Michael takes on Colt's biggest snake gun, the 8-inch Anaconda. Also, an interview with "Jedi," Scott Jedlinski of Modern Samurai Project busting red dot myths!
Michael Bane examines the pros and cons of the Ruger Blackhawk in .44 magnum versus the Ruger Redhawk.
With this newest "Hawk" from Ruger, we have a revolver that will shoot .45 ACP through the use of full moon clips and the wide range of 45Colt loads.