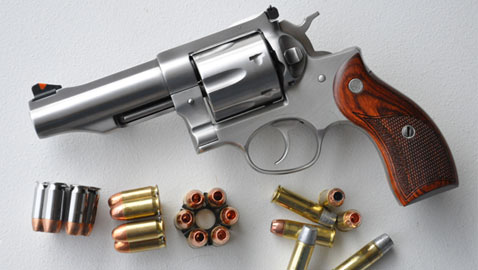 The idea of pushing a big, heavy bullet out of a handgun at high velocity has been around for a long time. Elmer Keith, the father of big bore magnum handguns, started his writing career in the 1920s by describing how his experiments to soup up the .45 Colt round had resulted in blowing up a Colt Single Action Army revolver. Keith gave up on hot-rodding the .45 Colt and went on to experiment with the .44 Special. His work led to the .44 Magnum, "The most powerful handgun in the world" according to Dirty Harry. Some years later Dick Casull developed the .454 Casull after he too managed to blow up some Colts during his attempts to turn the .45 Colt into a Magnum. Much later, Smith & Wesson created the .460 S&W round, basically a .45 Colt with a much longer case, for their massive X-Frame revolver. As far as I know the .460 holds the record for velocity and sheer "power" in .45 caliber pistol ammunition.
In 1980 Ruger came out with their Redhawk revolver, a heavy-duty, large frame double action revolver suitable for the most powerful handgun ammunition. The Redhawk looks like a beefed up version of Ruger's smaller GP-100 double action revolver and the two share several characteristics such as a solid frame for strength and a removable trigger group. Both revolvers can be field stripped without tools, aside from a screwdriver being needed to remove the stocks. The two revolvers share another feature, that being a "triple locking" cylinder, meaning the cylinder locks at the rear via a traditional center pin but locks at the front with a crane lock that is much stronger than the traditional method of locking at the end of the ejector rod. The third locking point? That would be the bolt fitting into a notch in the cylinder when the hammer is cocked. But there the similarities end, as the Redhawk is massively bigger than the GP-100 and uses a unique single spring action that controls both the trigger and the hammer.
Redhawks have been offered in
a number of calibers
over the years, chief among them being the .357 Magnum, .45 Colt and .44 Magnum. These days, the Redhawk is sold in .45 Colt and .44 Magnum, with the .454 Casull reserved for
the Super Redhawk
. Now, with this newest 'Hawk, we have a revolver that will shoot .45 ACP through the use of full moon clips, as well as the full range of .45 Colt ammunition from light cowboy loads all the way up to the most powerful, heavy bullet loads that rival the .454 Casull in power. This gives the Redhawk an unprecedented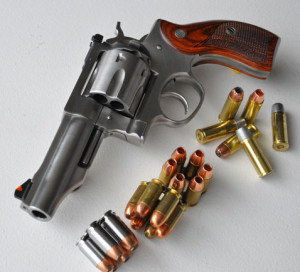 level of versatility; you can shoot target, defensive, hunting and dangerous game ammunition – in two calibers – all in the same revolver. This new Redhawk has another unique feature, that being a rounded grip frame, a feature only seen previously on a special edition .44 Magnum Redhawk Ruger produced last year for
Talo Distributors
. The new Redhawk wears an attractive set of checkered wooden stocks.
The .45 Colt / .45ACP Redhawk features a 4.20" barrel (to make it legal for sale in Canada – apparently the barrel has to be "greater than 4 inches"), the usual Ruger white outline rear sight adjustable for windage and elevation and a front sight easily replaced by depressing a plunger in the front of the sight ramp and lifting the rear of the sight out of the dovetail. This is a nice feature on two levels, first, because sights can be damaged, especially if the pistol is dropped, and second, the shooter can change the red ramp to a red or green Hi Viz sight or one of several other bright colors available from www.shopruger.com. The revolver weighs a hefty 44.5 ounces empty, 49.0 ounces with six rounds of .45 ACP 230gr. ball on board and 51.0 ounces when loaded with six rounds of heavy 360gr. .45 Colt ammunition.
The double action trigger pull overcame my electronic trigger tester (limited to 12 pounds) and the single action trigger pull measured an average of 7 lbs., 12 ounces. These trigger pulls are considerably heavier than those found on the GP-100 and are attributable to the single spring design and Ruger's commitment to making sure a revolver that might be used for defense against big, dangerous animals is going to fire every time. Looking through the Brownell catalog, I discovered Wolff makes a spring kit for the Redhawk and, according to them, the factory spring is rated at 17 pounds. The Wolff kit provides a 12, 13 and 14 pound spring and I found that only the 14 pound spring provided reliable ignition in both single action and double action firing. With the 14 pound spring installed, the double action trigger pull was reduced to 11 pounds and the single action pull averages 6 pounds. If you're interested in field stripping the Redhawk, Ruger has provided excellent instructions in the manual that ships with the revolver and there are assembly and disassembly videos on Ruger's website.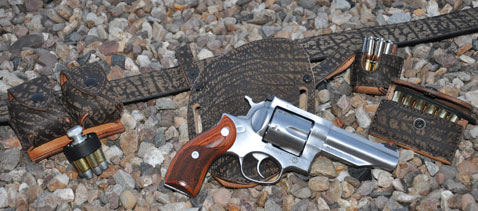 A revolver designed for field carry needs a good holster and the Redhawk also needs pouches to carry ammo in clips, speed loaders and Quick Strips. I asked Rob Leahy at Simply Rugged Holsters to help me out and he outdid himself by producing a complete set of gorgeous leather faced in Cape Buffalo hide. The set features Rob's Sourdough Pancake holster with an adjustable cant, that can be worn cross draw and can be used as an inside the waistband holster with the addition of IWB straps. Along with the pouches for speed loaders and strips, Rob also designed a pouch for the full moon clips. Like the new Redhawk, this rig is extremely versatile and allows you to carry a range of ammunition that should handle any need from shot loads for snakes, defensive loads for two-legged snakes and full bore stomper loads that will handle any critter you might encounter.
My follow-up article will feature shooting the Redhawk with a bunch of .45 ACP and .45 Colt ammunition. It's a pussycat in .45 ACP and a roaring lion with the most powerful Colt loads.
For more information, visit Ruger.com.
About the Author: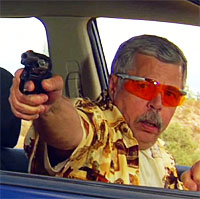 Ed Head is a regular on Shooting Gallery, Gun Stories and Down Range TV. He has worked for almost 30 years in law enforcement, first in the United States Air Force and then with the United States Border Patrol, retiring as a Field Operations Supervisor. During his Border Patrol career, Ed worked in a variety of patrol, investigative and training capacities. Ed has an extensive background as a firearms instructor, having trained thousands, ranging from beginners to police, military and special operations personnel. Having taught at Gunsite for 20 years, Ed first trained there under the world famous shooting school's founder, Jeff Cooper, then later ran the school as the operations manager for more than five years. Ed lives in Chino Valley, Arizona, where he continues to teach and write.