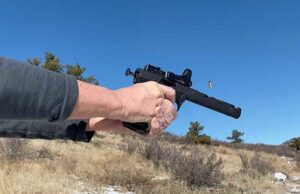 00:21:27
Triggered
The Volquartsen Mamba-X may be the best out-of-the-box .22 racegun Michael has ever shot. It is perfect for sports such as Rimfire Challenge and Steel Challenge competitions. Also, Jeff Gonzales, one of America's premier firearms trainers, offers some strong words on the Real World.
Been a while since Michael worked with his "race" .22 pistols, but the Volquartsen Mamba-X just wants to run!
This week Michael talks about some of the new products announced  during the period of time normally occupied by the SHOT Show.