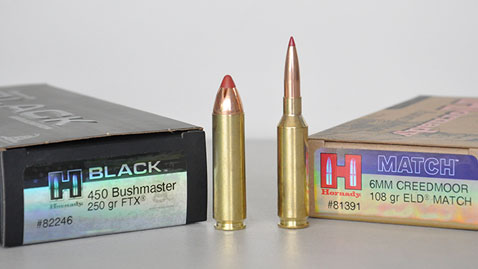 Shooting someone else's guns and ammunition is always a good thing and nothing beats SHOT show media day at the range. This annual event gives manufacturers a way to demonstrate their wares as participants are asked to step up and shoot. Two of the guns I shot at media day are new Rugers, their Precision Rifle in 6mm Creedmoor and the American Rifle in 450 Bushmaster. Thousands of rounds were put through these rifles – I have no idea how many – then both were delivered to me for testing. I imagine these rifles have fired more rounds than the average person puts through a rifle in many years, or a lifetime, so it ought to be interesting to see how they shoot.
6mm Creedmore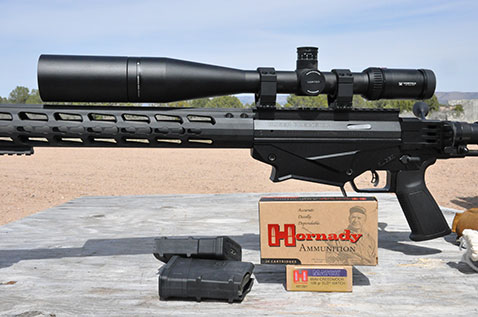 The Ruger Precision Rifle (RPR) has taken off in popularity and Ruger can't produce them fast enough to keep up with demand. It's a compelling choice, being a reasonably priced, highly accurate rifle suitable for long range shooting or competition. I'm told 80% of the folks participating in the Precision Rifle Series (PRS) stock rifle classification are shooting RPRs, most of them in 6.5 Creedmoor and .308 Winchester. As a matter of fact, suggestions from precision shooters caused Ruger to make some changes to the original RPR such as the addition of a muzzle brake and a different handguard/rail to allow for the mounting of bigger scopes. Why a muzzle brake? In competition, shooting steel, the shooters want to be able to observe the bullet strike. In similar fashion they wanted a cartridge with the ballistic characteristics of the 6.5 Creedmoor but with a little less recoil and a flatter trajectory. This prompted the folks at Hornady – who designed the 6.5 – to come up with the 6mm Creedmoor. As of this writing, Hornady is the only manufacturer I'm aware of making 6mm Creedmoor ammunition. Comparing the 6.5 with the 6mm we get:
6.5 Creedmoor, 140gr. Hornady ELD Match, 2710fps, drop at 500 yards with a 200 yard zero; 44.4 inches
6mm Creedmoor, 108gr. Hornady ELD Match, 2960fps, drop at 500 yards with a 200 yard zero; 37.8 inches
So the 6mm round has a starting velocity, with a lighter bullet, that's about 250 feet per second faster and shoots flatter, especially as the range is extended. Both RPRs, the 6.5 and 6mm, use the same .308 magazines and are based on the same case.
As I've written several articles for Downrange.TV on the RPR I'm going to refer you to them and Ruger's website for details about the rifle, rather than taking up space here.
450 Bushmaster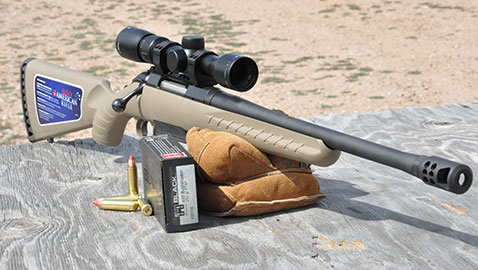 Ruger American Rifles are selling like hotcakes, and why not? These low cost, well made rifles are proving themselves to be extremely accurate and Ruger has expanded the line to include long and short barreled, compact stock, centerfire, rimfire and threaded barrel models. In fact, the bolt action of the Precision Rifle is an enhanced American Rifle action. While we've come to expect new products in the American Rifle lineup I think the addition of a version chambered in 450 Bushmaster caught us all by surprise. Prior to this Ruger rifle the 450 Bushmaster has been offered in a couple of AR style rifles made by Remington and were considered kind of a niche rifle primarily intended for hog hunting. So you might wonder, what was Ruger thinking when they decided to chamber one of their short-barreled Ranch Rifle variants of the American Rifle in 450 Bushmaster? It had me puzzled until I shot it and now I think I get it. What you have here is a large diameter .45 caliber bullet weighing 250 grains with a muzzle velocity of 2200 feet per second from a straight-walled case. Let that sink in a moment and consider Jeff Cooper's Thumper concept then compare the 450 Bushmaster to, let's say, the 45-70:
450 Bushmaster, 250gr. Hornady FTX, 2200fps, muzzle energy – 2687
45-70 Government, 250gr. Hornady MonoFlex, 2025fps, muzzle energy – 2276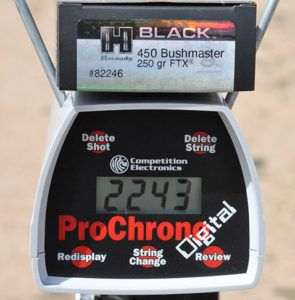 The listed 450 Bushmaster data comes from a 20" barrel, and guess what? I chronographed 10 rounds and got an average of 2243fps from the 16.12" barrel of the Ranch Rifle. Using the same bullet weight, this little thumper outperforms the .45-70! This short barreled, lightweight, bolt action rifle entertains all sorts of possibilities beyond hog hunting. As for ammunition, Hornady recently brought out a new line of ammunition intended primarily for AR rifles they call Hornady Black and that's what I used to test the stubby little Ruger.
Both test rifles came with Vortex scopes, the RPR with a Vortex Viper 6-24 and the Ranch Rifle with a Vortex Razor 1.5-8. While the Viper seemed in good shape after the shooting at Media Day, the Razor scope on the Bushmaster was sliding around in the rings, having shot loose from recoil. I'm told that early versions of this rifle didn't include a muzzle brake and the sharp recoil when fired in a rifle weighing less than 6 pounds was loosening and breaking scopes. A muzzle brake was added, but, even so, the scope on the Media Day rifle managed to shoot loose. I re-secured it and suggest that when you mount a scope on this little beasty you tighten it down and use thread locker on the screws.
Range Time
The Precision Rifle performed very well but I think I could have fired better groups had I not shot it off the bipod, and instead, fired it from sandbags. Bipods work great on the ground, in my experience, but not as well off a bench where they tend to let the rifle bounce when fired. Still, the average group size for 5, three shot groups was .854". Not bad for a rifle with several thousand rounds through it. While the muzzle brake barked it did a good job of keeping the barrel down and recoil with the 6mm round was negligible.
The 450 Bushy is a little beastie when fired in the lightweight Ruger Ranch Rifle. Shooting from kneeling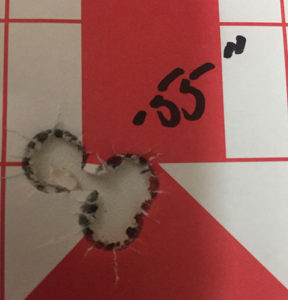 and standing isn't a problem – it feels about like shooting a .308, but it's a different story when fired from the bench. Shooting this round can best be described as "sudden". Sharp recoil, a blast from the muzzle break that blows unsecured items off the bench and a jab to the shoulder results from pressing the trigger. It's actually rather entertaining. How was accuracy? You might expect a blaster like this to throw rounds all over the target but you would be mistaken. The worst three shot group I fired measured 1.32 inches. Most of the rest clover leafed, with two groups running .54" and .55". The average for five groups came to .8", meaning this big cartridge and little rifle are a potent combination. To say I'm impressed would be an understatement!
Ruger keeps churning out new models and there are some interesting prospects on the horizon, among them a new model or two of the RPR and a Gunsite Scout Rifle in 450 Bushmaster. Stay tuned!
For more information:
About the Author: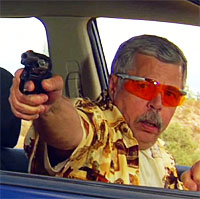 Ed Head is a regular on Shooting Gallery, Gun Stories and Down Range TV. He has worked for almost 30 years in law enforcement, first in the United States Air Force and then with the United States Border Patrol, retiring as a Field Operations Supervisor. During his Border Patrol career, Ed worked in a variety of patrol, investigative and training capacities. Ed has an extensive background as a firearms instructor, having trained thousands, ranging from beginners to police, military and special operations personnel. Having taught at Gunsite for 20 years, Ed first trained there under the world famous shooting school's founder, Jeff Cooper, then later ran the school as the operations manager for more than five years. Ed lives in Chino Valley, Arizona, where he continues to teach and write.