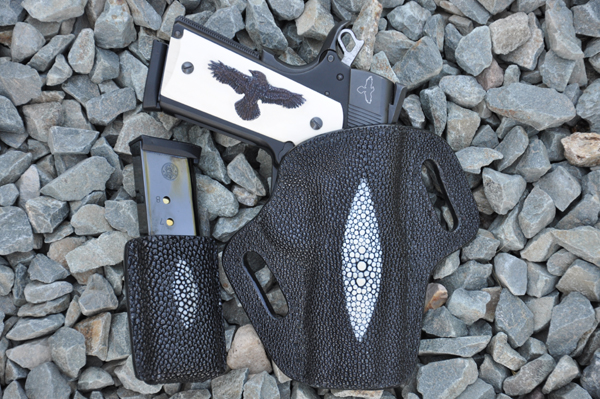 Do you have a party pistol? You should, and you need to break it out and get ready to celebrate our national birthday. Sometimes called BBQ guns, party pistols and fancy leather to carry them in are a necessity for festive events, especially those having to do with celebrating our freedoms.
I suspect people have been carrying fancy hardware to parties for a long time, but here in the Southwest the tradition goes back to Old Mexico where anyone who was anybody wouldn't think of showing up to a fiesta without a fancy pistol, usually shoved into the waistband in front where everyone could admire it. These days most of us prefer to carry our party pistols in fine leather.
The rig in the picture is my party pistol and I will be wearing it at a BBQ, along with a bunch of similarly armed folks, on Wednesday, Independence Day. The pistol is a Smith and Wesson 1911PD Gunsite model, the fine stingray holster and magazine pouch are by Galco Gunleather and the real-deal ivory stocks were carved by Tony Rist.
Post your party setup on the DRTV forum!
This is my first blog for Downrange.TV, stay tuned for more as the spirit moves me.
DVC,
Ed
About the Author: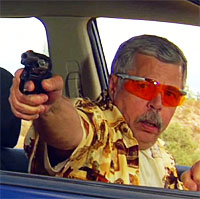 Ed Head is a regular on Shooting Gallery and Down Range TV. He has worked for almost 30 years in law enforcement, first in the United States Air Force and then with the United States Border Patrol, retiring as a Field Operations Supervisor. During his Border Patrol career, Ed worked in a variety of patrol, investigative and training capacities. Ed has an extensive background as a firearms instructor, having trained thousands, ranging from beginners to police, military and special operations personnel. Having taught at Gunsite for 20 years, Ed first trained there under the world famous shooting school's founder, Jeff Cooper, then later ran the school as the operations manager for more than five years. Ed lives in Chino Valley, Arizona, where he continues to teach and write.