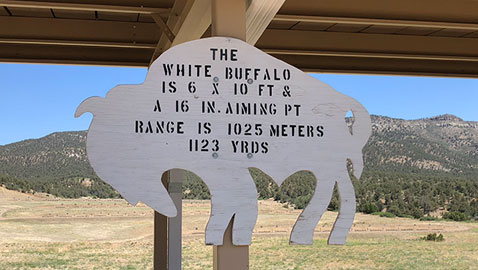 The price of admission keeps going down. What am I referring to? It's long-range precision rifle shooting, once the domain of very high priced custom rifles and scopes. In recent years prices have plummeted with the availability of factory semi-custom rifles like the excellent Ruger Precision Rifle and telescopes from Vortex, Leupold and others that are affordable yet packed with features needed for long range shooting.
Ammunition is part of the equation as well. The introduction of loads like the 6 and 6.5 Creedmoor and improvements in other rifle ammunition have made getting hits at longer ranges easier due to better bullet design, flatter trajectories and increased long range accuracy. Demand for better long-range products is driving development throughout the firearms industry and today's shooters are now able to make shots unheard of in years past.
My exposure to the 6.5 Creedmoor came about when Ruger chambered the Precision Rifle in this long range round. Shooting at FTW in Texas I was soon making hits out to 1400 yards with this combination and an excellent, though reasonably priced, Burris scope. All up, this rifle and scope combination came in at a retail price of about $2000, and, while not cheap, it proved a long-range setup could be had for several thousand dollars less than the usual price tag.
On the economy side of things we have the Ruger American Rifle series. These inexpensive rifles are usually available at retail in the $400 range and exhibit exceptional accuracy. With their cold hammer forged, free floated barrels, stiff actions and Ruger Marksman triggers these rifles out-shoot rifles costing many times more. In fact, I have tested a bunch of these rifles and they are unquestionably the most accurate factory rifles I've encountered; and I mean all of them regardless of caliber or barrel length. Two of he most accurate are the short, 16" barreled Ranch Rifles in .223 and 7.62X39. These little shooters were both capable of one hole, three shot groups at 100 yards during my testing.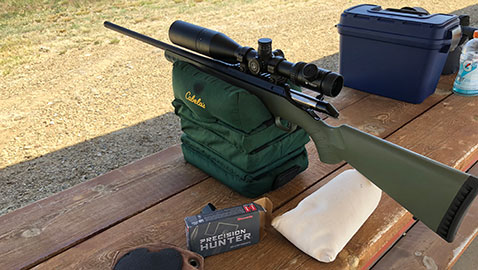 Now I don't know about you, but every time a nice scope comes my way I have to find a rifle to jack up underneath it. Such was the case when I obtained a Vortex Viper PST 4-16 X 50 long-range scope. At about the same time a Ruger American Predator rifle in 6.5 Creedmoor with a 22" barrel showed up for testing and there you have it – an economy long-range setup. While the Viper 4-16 PST has been discontinued it appears its replacement is a 6-24 version that can be had online at Midway USA for $749. This brings the rifle and scope combination in at around $1200 and that's a bargain in the long-range arena.
After shooting the rifle at 100 yards on Gunsite's York Range and obtaining a good zero I decided upon the outstanding Hornady Precision Hunter ammo with its ELD-X 143 grain bullet. This ammo, scope and rifle combination produced several one-hole groups. Going to Hornady's website I used their 4DOF online ballistic calculator to compute the ballistics and come ups (in Minutes of Angle) out to 1200 yards. While I wanted to shoot at Gunsite, where a number of long range target setups exist, one thing led to another and I never got around to it. Heavy springtime winds and other projects pushed my long-range test to the back burner until a trip to the NRA Whittington Center in Raton, New Mexico.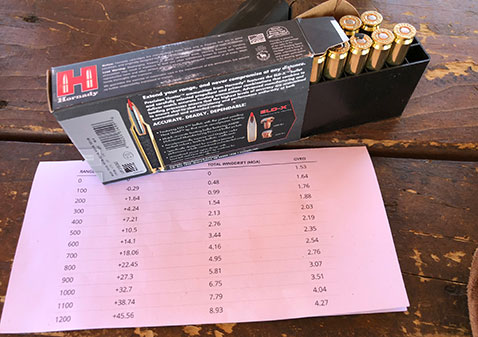 Whittington is a shooter and hunter's dream. On some 25,000 acres the center is home to dozens of ranges and has accommodations ranging from cabins and primitive campsites to RV parks with full hookups and Wi-Fi. You can't drive 200 yards without seeing deer or antelope and my wife loved sitting in the RV and seeing deer walk past the window as she ate breakfast.
Knowing we were meeting at Whittington for the annual Shootist's Holiday, my friend Matt and I agreed to economy long-range test. I brought my Ruger and Matt showed up with a new Mossberg MVP LC in 6.5 Creedmoor with a Leupold VX-3 scope. Not quite as economy as my outfit, the suggested retail for Matt's rifle comes in at $1050 but can be had for several hundred dollars less if you shop around. Shooting the same Hornady Precision Hunter ammunition, we started out on a new range with steel targets out to 600 yards. Looking at my data, I dialed up 300 yards and smacked several steel swingers, came up a little and did the same at 325. Next up was a target at 560 yards that took a couple of shots to dial in, as I had to guess at the come ups between 500 and 600 yards on my data sheet. Finally, I dialed in 600 and was rewarded with a first round hit, confirming my data was good. After getting Matt dialed in he too was smacking the 600 yard target.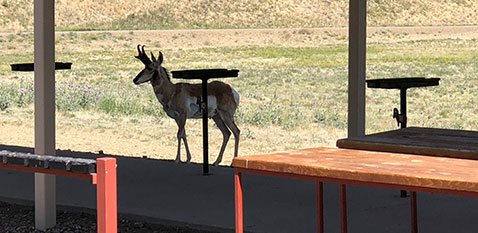 This was preliminary to our goal of shooting the White Buffalo, a Whittington standard. It's a full size, steel buffalo, painted white with a black 16" center swinger set at 1123 yards from the firing line. As we arrived at the range a buck antelope had taken over the firing line. He sauntered off after a bit and laid down around 100 yards out, where he stayed completely unbothered by rifle fire. Shooting over sandbags from a bench, my first shot using my 1100-yard data was a little high. I came down a couple of clicks and from then on I couldn't miss. It took us a little longer to get Matt on but before long he was banging and clanging. An interesting fact in long-range shooting is you can see hits through the scope before the "clang" sound makes it back to you. In the case of the White Buffalo the sound takes some 5 seconds.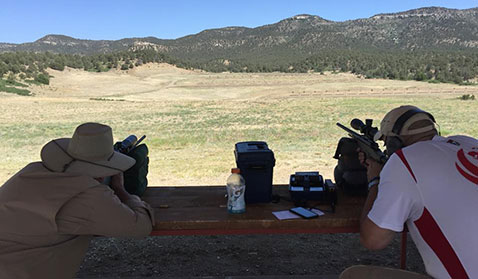 Rifles, scopes and ammunition for long-range shooting have come a long way in just a few years. Matt and I satisfied ourselves we could assemble reasonably priced, off the shelf components and ammunition and make long range hits. Actually, it was easy, much easier than we anticipated.
For more information:
About the Author: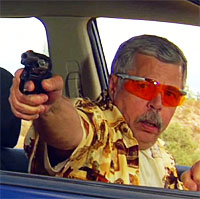 Ed Head is a regular on Shooting Gallery, Gun Stories and Down Range TV. He has worked for almost 30 years in law enforcement, first in the United States Air Force and then with the United States Border Patrol, retiring as a Field Operations Supervisor. During his Border Patrol career, Ed worked in a variety of patrol, investigative and training capacities. Ed has an extensive background as a firearms instructor, having trained thousands, ranging from beginners to police, military and special operations personnel. Having taught at Gunsite for 20 years, Ed first trained there under the world famous shooting school's founder, Jeff Cooper, then later ran the school as the operations manager for more than five years. Ed lives in Chino Valley, Arizona, where he continues to teach and write.