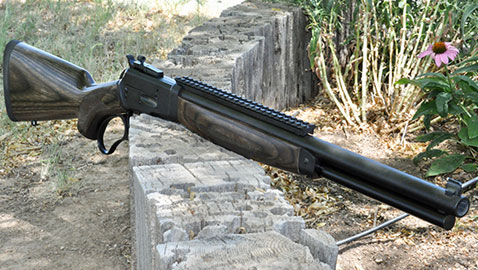 Wiley Clapp showed up at Gunsite one day in 2003. We always appreciate his visits because we never know what interesting, new or secret gun he might drag out of his truck and pass around. This time he had the brand new Smith & Wesson .500 Magnum, a huge revolver made up on Smith's extra large X-frame. Holding forth as only Wiley can, he told us all about the new revolver and ammunition at some length. After whetting our appetites – we were fairly slobbering by then – he finally popped the question: "Well, who wants to shoot it?"
First up was Louis Awerbuck. In case you never met him, Louis was a very intense individual in a small frame and a respected instructor and author in his own right. Hoisting the cannon and letting fly I was amazed to see the revolver rise in recoil over Louis' head as he was rocked back on his heels. Damn, this thing might be a little rough, thought I. With some trepidation I touched it off and managed to loose three shots before handing the fire-breathing monster to Wiley, saying, "That's enough for me."
At that point I had a bit of an epiphany: This thing is really big and heavy. Wouldn't this ammo be perfect in a lever action rifle?  Later I brought this up with a group of Smith & Wesson product managers and was told, in secret, they were working on a lever action .500 S&W. I don't know what happened to that project because, as far as I know Smith never produced the gun, yet I wonder if maybe there isn't a prototype hidden away in the Smith & Wesson factory.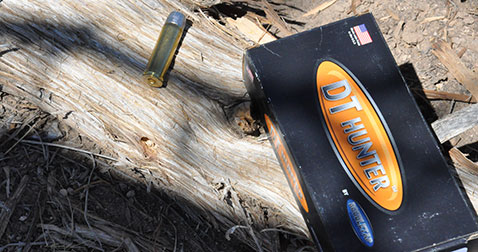 Apparently I wasn't the only person interested in a .500 S&W lever gun. A few years later Greg Buchel, up in Cody, Wyoming, started Big Horn Armory and began producing beautifully crafted rifles chambered in .500 S&W. Using an action of his own design it can best be described as a large lever action that takes features from several rifles, most notably the legendary John Browning designed 1892 and 1886 Winchesters. The rifles are impermeable to rust, being blackened stainless steel, weigh a little over 8 pounds depending upon configuration and are available in .460 S&W as well. So what happens when you shoot .500 S&W ammunition in a rifle with an 18-inch barrel? Well, mostly you get a lot more velocity and energy, so much energy, in fact, that these big .50 caliber rounds have proven they can punch through and take down any critter on the planet. Well, except for whales. Greg likes to point out nobody has attempted to take a whale with his rifle so there might be an exception to his statement the rifle can take any animal.  Ammunition in .500 S&W is available from outfits like Federal, Hornady, Buffalo Bore and Doubletap. If you're looking for the ultimate in rock 'em, stomp 'em, deeply penetrating ammunition the hard cast, flat point Buffalo Bore and Doubletap ammunition is the heat. And while I could go on for several pages describing the facts and figures of available .500 S&W ammunition Greg has already done that, chronographed it in his rifles and publishes this library of data on his website. Think about blowing a half-inch hole through most anything.
While fascinated by these mega lever guns I avoided testing one for several reasons. The first is cost – let's just lay it out and say these rifles are pricey, very pricey, as in $3,000 or more. Second, I had no need for one. The last T-Rex to roam my part of Arizona passed through years ago and nobody expects another one to show up any time soon. And, I reasoned, anything I am likely to hunt can be taken with lesser calibers. But wait….. I'm something of a scout rifle fanatic and wouldn't you know it, Greg came out with a Big Horn rifle with a forward mount scout rail. I contacted Big Horn and in no time at all a scout version arrived, complete with an installed Leupold Scout Scope. Perfect!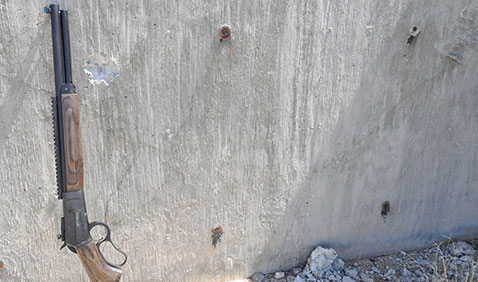 Rounding up ammunition took a little longer but then it was time to head for the range. Wanting to see if these rifles could shoot I first determined to fire the big lever-action from a bench rest at 100 yards. This turned out to be one of my poorer decisions, as any rifle that recoils heavily is much more comfortable to shoot from standing and most are brutal when fired off the bench. I endured long enough to establish the rifle was more than capable of placing three .50 caliber holes in paper with all three holes touching before things started to come apart – literally. As the groups blew apart it became obvious something wasn't right and I soon determined the scout rail was wobbling about and had shot loose. After I took the rifle home, called Greg and secured the rail it was time for another range test. This time I managed to beat myself up pretty good before determining the rail had once again shot loose and the reticle of the Leupold scope was broken. Did I mention this thing kicks?

Figuring the project was a failure; I shipped the rifle back to Greg, who, surprisingly, sent me another rifle. It sat in my safe for quite a while as I pondered what to do with it and went on to other projects. Then, this April, we ran a lever action class at Gunsite. Greg showed up with a bunch of his rifles, a pile of ammo, and I once again became inspired to get my rifle test back on track. In a moment of clarity I realized the role of this monster lever gun is for short to medium range hunting of large animals and dangerous game and scopes, even scout scopes, weren't necessary. The rifles come equipped with a set of excellent Skinner sights, surely the best example of an adjustable Ghost Ring setup I've seen. These sights allow for precise accuracy, are very fast and add no unnecessary bulk or weight to the rifle – and they won't break or shoot loose. By the way, Greg seems to have fixed the loose scout rail problem as I fired many rounds with a Leupold 1.5-5 IER Scout scope mounted on the second rifle and everything stayed put.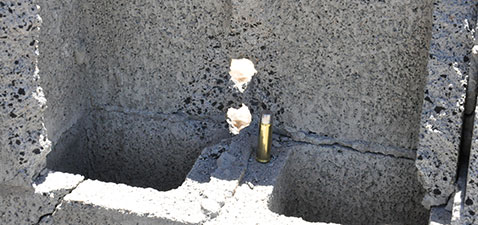 Having already established the rifle is accurate I decided the way to test it further was to go out and have fun blowing holes in things like cinder blocks and large tree limbs. You don't plink with this cannon, you blast, and as a big bore walkabout blasting rifle it's hard to beat, great fun and appeals to the little boy in all of us. A couple of folks I know have already asked if they can borrow the M89 for big game hunts and there are some pigs around here that need sorting out so maybe we'll get to see it tested on game.
So there you have it, a beautiful, finely crafted, all weather, accurate, expensive rifle that will take down anything from dinosaurs to trucks and is good for major bragging rights in any hunting camp. If that's what you're seeking the Big Horn Armory Model 89 is for you.
For more information:
www.bighornarmory.com
www.federalpremium.com
www.hornady.com
www.buffalobore.com
www.doubletapammo.net
www.leupold.com
www.skinnersights.com
About the Author: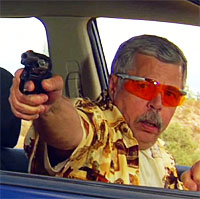 Ed Head is a regular on Shooting Gallery, Gun Stories and Down Range TV. He has worked for almost 30 years in law enforcement, first in the United States Air Force and then with the United States Border Patrol, retiring as a Field Operations Supervisor. During his Border Patrol career, Ed worked in a variety of patrol, investigative and training capacities. Ed has an extensive background as a firearms instructor, having trained thousands, ranging from beginners to police, military and special operations personnel. Having taught at Gunsite for 20 years, Ed first trained there under the world famous shooting school's founder, Jeff Cooper, then later ran the school as the operations manager for more than five years. Ed lives in Chino Valley, Arizona, where he continues to teach and write.