Time sure flies when you get busy, and here at Gunsite we are well into one of our busier times of the year. Spring has sprung, the training weather is wonderful and we have extended our 2009 class pricing for the remainder of 2010.  If you haven't made arrangements to come see us, what are you waiting for?
As mentioned earlier, we now have a Gunsite Facebook page.  Check it out at www.facebook.com/GunsiteAcademy.
And, as you know, Buz is running for Governor of Arizona.  The latest polling shows him in a tie for the Republican nomination and handily defeating the Democrat candidate in the general election.  Go to www.buz4gov.com for more information or to help with the campaign.
Today, as I write, is the 29th of March and the 99th anniversary of the sainted John M. Browning's greatest achievement, the Colt 1911 pistol.  We trust you will celebrate in an appropriately loud fashion and are looking forward to the 100th anniversary next year.  As to that, we see Kimber has announced a commemorative pistol and there are probably more to come.  We (Novak Sights and Gunsite) have been working with Colt on a new model 1911 for the next 100 years and are keeping our fingers crossed while hoping Colt will produce "our" anniversary pistol.
It seems we have just started this year but in a few weeks we will start putting together the 2010 training schedule.  Now is the time, if you have ideas or dates for classes, to let me know.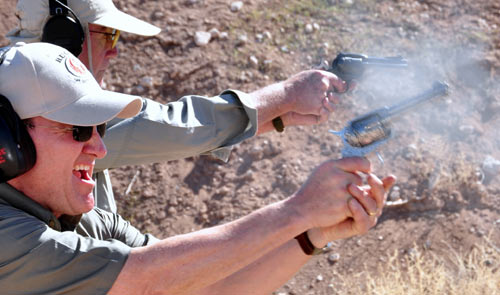 Have you ever thought about using your single action revolver as a defensive firearm?  Although most people use more modern pistols these days, there is a lot to be said for the old thumbuster and people in the cowboy shooting events have sure proven there is nothing slow or awkward about shooting a SA revolver.  Last year we put on a prototype Single Action Defensive Revolver class, and, besides having a lot of fun, we learned quite a bit as well.  We're going to be running this class again May 3-5, 2010 and would like to invite you to join us.  TV star and gunwriter Michael Bane will be attending, along with some other media folks.  Ruger is sponsoring the event and will be providing revolvers.  You can either bring your own pistol or use one of Rugers, and I hear there might be some smokin' deals available on Ruger pistols at the end of the class.  We will have more information on this event coming out shortly, so if you would like to hang out with some of the people you see on TV along with people from Ruger and want to learn to fight with the SA revolver consider signing up.  For more information give us a call at 928.636.4565.