April has been a wonderful and interesting month here at Gunsite.  The training weather has been just about perfect and, along with our regular schedule of classes we have conducted quite a few specialty classes for individuals, groups and the military. April was also the month we introduced three new classes to the Gunsite training schedule, those being Battle Rifle, Long Range Rifle and Ladies Only 250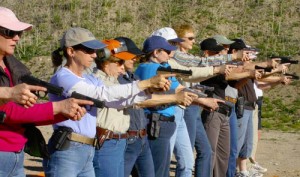 Battle rifle is a class much like our carbine class but designed around the major caliber battle rifle such as the M1A, FN/FAL, H&K 91, AR-10 and others.  Long Range Rifle is intended for those who would like to learn long range shooting and sniper skills in a shorter package than our 7 day PR-7 class, and to do so without the need to get into a Ghillie suit and do a sniper stalk. Ladies Only 250 is our regular 5 day long Defensive Pistol class for girls only and is taught by a staff of women instructors. All of these inaugural classes were a success, largely due to the skills of our outstanding staff of instructors.  In particular, Mike Hughes wrote the lesson plan for, and Rangemastered, BR, Mike Moore did the same for LRR and Il Ling New adapted our 250 curriculum to the ladies class.
We will be running these classes again this year should you wish to participate.  BR comes around again Sept. 27 – Oct. 1 and LRR will run Aug. 23 – 27 and Oct. 18-22.
Due to the success of the Ladies Only 250 we are going to be running it again, this time in conjunction with a regular 250, the week of October 18 – 22.  And, we have a special deal to introduce for family members.  Sign up for the regular 250 that week and have a wife, daughter or sister sign up for the Ladies Only class and you get the ladies class for half price, a savings of $714.  This class is restricted to 12 women and we expect it to fill quickly.
While LRR was going on we were also running a 499 class.  499, as you probably know, is Gunsite's advanced pistol class.  What struck me, throughout the week, was the way the riflemen seemed to be walking about with huge grins on their faces, while the pistoleros could be seen with a look of grim determination.  I think the rifleman were in something of a state of happy amazement as they learned to make long range hits beyond anything they had expected or experienced before.  They were having a great time, and it showed.  The pistol shooters were having a good time too, but they were experiencing testing themselves against the time and distance challenges of 499.  To me, 499 is finished gunfighter school and I think, as they realized what they were accomplishing, the pistol shooters understood they were stepping up to a higher plane, and a place few manage to transcend.  That alone is cause for serious contemplation.
As you might know, many of the ranges at Gunsite are named after or dedicated to Medal of Honor winners.  The Hanneken range is named after Herman Hanneken, the York range is named after Alvin York, the Woodfill range is named for Sam Woodfill, Sniper Ridge is dedicated to Gary Gordon and Randall Shugart, the Playhouse is dedicated to Smedley Butler and the Funhouse is dedicated to Dan Daly.  And during their annual Wainwright family reunion this month, it was our pleasure to have the Wainwright family here as we dedicated the Gunsite North Range to General Jonathan M. Wainwright IV.
DVC,
Ed

Ed is the operations manager at Gunsite. Ed retired as a Field Operations Supervisor with the US Border Patrol in 2001. In his 30 years of law enforcement experience he has served in a variety of patrol, investigative and training capacities and has been a federal and state certified firearms instructor for more than 25 years. Ed has been a Gunsite instructor since 1991 and a Rangemaster since 1997. He teaches Pistol, Carbine, Rifle, Shotgun and Specialty classes.