This week Michael muses on an article by Massad Ayoob on cartridge capacity in EDC firearms. Plus, how flash mobs have morphed into organized crime.
This week Michael talks about whether your training should change following the Indiana "good guy with a gun" shooting…how do we balance necessary training with everyone's different constraints?
This week Michael talks about John Hearne's important class, WHO WINS, WHO LOSES AND WHY, then goes into some controversy currently churning the training community… are we "overshooting" most potential customers?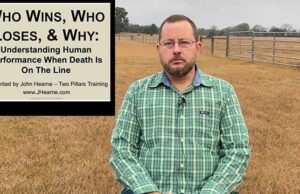 00:21:55
Triggered
This week our special interview with John Hearne about his can't miss class, WHO WINS, WHO LOSES AND WHY. Also, from Heritage, the "Tactical Cowboy," and yes, you can put a suppressor on a revolver!
This week we forgo the music and talk about the acquittal for Kyle Rittenhouse and its implications for the self-defense community.
This week, the Rittenhouse trial coverage by Andrew Branca at LEGAL INSURRECTION. Also, tips on installing red dot sights.