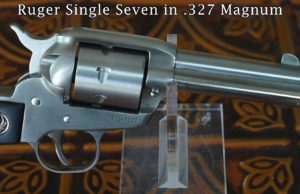 00:01:04
MICHAELBANE.TV - Blog
For you single action fans out there.... this is a Ruger Single Seven in .357 Magnum. It has a birdshead grip frame, 3 3/4" barrel, black laminate grips, un-fluted cylinder.
Michael Bane shows off his long range .22 rifle with the 4-20 Crimson Trace scope. He also brings you back to the OSG Roundtable to talk about the Stoeger STR-9.
Which gun will Michael grab if he has to "run out of the house"? In this episode he shows you a couple of his picks and the accessories that goes with them.
Years back, the great John Taffin began a quest for the "Perfect Packin' Pistol," the ultimate do-it-all always-on-your-hip pistol.