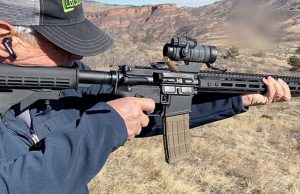 00:18:07
Triggered
This week Michael introduces you to the new Franklin Armory binary-trigger equipped AR-15. Plus, we get cute with the new Heritage Barkeep .22 revolver.
Sturm, Ruger & Company, Inc. will pay the $30 million purchase price from cash on hand at the time of closing, which is expected to occur in October.
This week Michael ponders over hunting, the 6.5 PRC and the most difficult challenge of all.... what to sell and what to buy....
Boyds has recently released a bottom metal that allows the Boyds stocks to accept the Ruger American rifles with the AI-Style magazines.
Michael Bane reviews the 8-round, Ruger Custom Shop Super GP100 competition revolver chambered in .357 Magnum.
Michael Bane has once again fallen in love with another gun. This time it is the new Ruger American Ranch Rifle in .350 Legend.
Ed Head reviews the Ruger Precision Rifle in .300 Winchester Magnum.
Ed Head's review of the Ruger AR-556 MPR in .450 Bushmaster.
Ed Head's review of the Ruger American Predator .308.
Ed Head reviews the Ruger 450 Bushmaster Alaskan Scout Rifle.