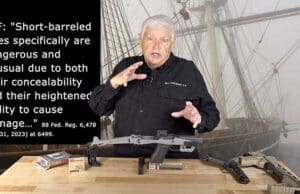 00:09:47
Triggered
As the ATF's ill-begotten "brace rule" goes into effect and lawsuits stack up like delayed planes over the Atlanta airport, Michael takes a close look at what makes the short-barreled rifle "more concealable" or "more deadly" than a pistol or a rifle…and comes up with nothing!
This week we take a look at the proposed ATF regulations on pistol braces and the nonsensical claim that SBR (or SBS or AOW for that matter) are intrinsically or inherently more dangerous than their longer-barreled brethren…or, a pistol of the same caliber! Plus, Steven Hunter's THE BULLET GARDEN…buy it quick!
Good question, and Michael addresses it this week. Depending on the uses you have in mind for your rifle, even an LPVO — low powered variable optic — may be overkill. Also, a rave review for Stephen Hunter's newest, THE BULLET GARDEN.