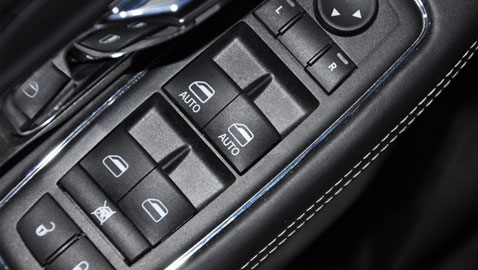 It was an early Sunday morning and I was driving home after a midnight shift as a Border Patrol Field Operations Supervisor. It had been a quiet night, we had managed to get off early for once, and I was looking forward to a couple of days off duty. As I drove my truck up the hill through the winding maze of residential streets leading to my home I noticed a small, beat up car following me. Okay, let's do a series of turns and see if he stays with me. Yep, still there. Well, I don't want this guy following me home so how can I get rid of him? Pulling into a cul-de-sac, I made a fast U-turn and, before he could react, I had pulled up next to his driver's door, blocking him from opening it. Looking down into his car I politely inquired if there was something I might do for him? Screaming and brandishing a baseball bat, a man I had never seen before declared he was going to kill me.
The best fight, especially a gunfight, is the one you don't attend. No matter how it turns out, win or lose, no good comes from a gunfight. And winning the fight doesn't mean you won't lose the aftermath – that might involve arrest, trial, lawsuits and huge costs both emotionally and financially to you and your family. If we agree that fights, especially gunfights, are to be avoided, what are some of the tools we can use to keep them from happening?
The first step in avoidance is acknowledging the world can be a dangerous place, that there are bad people who may wish to do you harm and anticipating that you may have to deal with them. No amount of wishing it won't happen or convincing yourself you're safe because you're a nice person or live in a safe neighborhood is going to matter if Evil comes for you. This begs the question of whether you should be armed (and trained) and the answer is, yes, always, if possible. People who say, "I only carry my gun when I think I might need it" are missing the point of personal defensive firearms.
The next step in avoidance is alertness. You can't defend yourself or get away if you don't see it coming. There is a huge difference between looking around with your head up and stumbling along looking at your feet or your cell phone. This difference in posture marks the distinction between a predator and prey, and you better believe the bad guys see it and pick their victims accordingly. Anticipation and alertness go hand in hand. For example, you might anticipate that stopping at a convenience store at 3 in the morning could present some danger to you and either avoid it altogether or take the time to "scope it out" for potential danger before getting out of your car and going in.
Once we're aware and alert we need to apply security strategies to help us stay safe. I wrote about securing the home in an earlier article for Downrange.TV . Simple things like closing and locking doors make sense and we should apply these same measures when we're out and about. My wife and I call it "Shields Up", meaning we lock the doors and leave the windows closed when we're in the car. Preventing someone from reaching into the car or jerking the door open can stop an attack cold. Most modern cars have self-locking doors; some lock when you put the car in gear, others when a certain speed is reached, but I'm going to suggest you hit the button and lock the doors as soon as you get in the car and don't unlock them until you have looked around and deemed it safe to get out. If in doubt, drive away. One form of home invasion robbery and rape involves bad guys identifying single women driving nice cars then following them home and gaining entry to the house through the open door when they pull into the garage. Clearly, this sort of thing could be avoided by anyone who is alert. Remember, too, that vehicles can be used as weapons and although modern, lightweight vehicles are not particularly bullet resistant you may be safer staying in the car and driving through, into or over whatever is necessary to get away from an assault.
What about public places? Again, it's all about awareness that these places can be dangerous and staying alert to avoid potential problems. While you don't need to tactically clear every place you enter you can pause, look around and make sure you're comfortable. I know several people who have been attacked in public restrooms so I'm particularly wary of them. Parking lots and parking garages have a well-deserved reputation as locales for muggers and carjackers. Does that mean you shouldn't park at the mall? Of course not, but you can look around, make sure you're not followed to your car and be on the alert for suspicious people.
Anticipation, awareness and alertness are the keys to avoidance. In the words of the famous hand gunner and author, Elmer Keith, "The best way to avoid getting hurt in a gunfight is to avoid getting into a gunfight. If you are in a position where you must risk gun battles, the surest way to keep them from starting is to take all reasonable precautions, and to be fast enough and accurate enough so you can dominate the situation with self-confidence."
How did I solve my problem with the guy who followed me? I gave him three choices; I can call the police (showing him my cell phone), I can blow your head off (showing him my badge and my Glock) or you can drive out of here, disappear and make sure I never see you again. He chose wisely and I went home to my family. Yes, I could have called the police but I was tired and wanted to go to bed. As for the other option, I really didn't feel like shooting a crazed druggie before breakfast.
About the Author: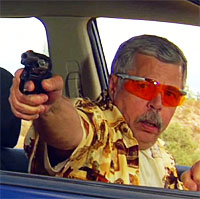 Ed Head is a regular on Shooting Gallery, Gun Stories and Down Range TV. He has worked for almost 30 years in law enforcement, first in the United States Air Force and then with the United States Border Patrol, retiring as a Field Operations Supervisor. During his Border Patrol career, Ed worked in a variety of patrol, investigative and training capacities. Ed has an extensive background as a firearms instructor, having trained thousands, ranging from beginners to police, military and special operations personnel. Having taught at Gunsite for 20 years, Ed first trained there under the world famous shooting school's founder, Jeff Cooper, then later ran the school as the operations manager for more than five years. Ed lives in Chino Valley, Arizona, where he continues to teach and write.