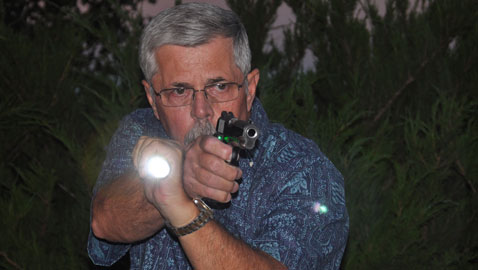 Every police officer learns this lesson sooner or later. Some find it so disconcerting they change jobs but for most it's an emotionally powerful event that will shape their conduct for the rest of their careers. I can explain it to you, but until you have pointed a gun at someone and heard them say, "Screw you, what are you going to do, shoot me?" you might not understand. Pointing guns at people you have no intention of shooting to force compliance with your demands is poor business. What are you going to do if they don't comply? Shoot them? Once the person you're confronting knows you aren't going to shoot, the balance of power in the confrontation shifts from you to them and your pistol becomes a liability. In fact, introducing a gun into a situation where it isn't required can sometimes provoke an escalation and deadly consequences. My advice is, don't point guns at people unless you mean to shoot them. Rule #2 – Never let the muzzle cover anything you aren't willing to destroy – applies, as do the adverse consequences of escalation. There are serious legal issues as well, and although I'm no lawyer, I believe pointing a gun at someone without justification is referred to as assault with a deadly weapon. Displaying or brandishing a firearm is a crime, especially if someone feels endangered or threatened.
Television shows, movies and the nightly news provide many examples of people pointing guns and screaming demands so it's probably no wonder people might believe it's a proper tactic. In the law enforcement world it isn't uncommon to see several officers pointing guns at someone while each officer demands a different response: Don't move! Show me your hands! Get down! Freeze! Get your hands up! Again, my advice is; don't point guns at people you don't intend to shoot, don't demand compliance at gunpoint unless you're justified in shooting and, if you do point a gun at someone who is a deadly threat you're probably past the point of having a conversation. If you're going to say anything, I suggest, "Don't move!" As my colleague Chris "El Dwiggo" Dwiggens used to say, "Don't let your last words on Earth be talking to a bad guy."
Weapon mounted lights and lasers are common these days in military, police and civilian usage. I'm a big believer in any tool that can help identify or stop a threat and lights and lasers can do both. I used lasers mounted on a couple of different duty pistols during my Border Patrol career and learned they can have a powerful deterrent effect on people with bad intentions. During several encounters with bad guys that would very probably have turned into shootings, the presence of the laser on my pistol de-fused the situation. I was amazed to discover, for example, when someone was advancing on me with a knife, that they were completely unimpressed by looking down the muzzle of my pistol ("What are you going to do, shoot me?") but when they saw that red dot dancing around on their chest they apparently came to understand the bullet was about to go right THERE! The downside to lasers is, just like pointing guns at people, pointing a laser at them when it's attached to a firearm is only justified if you're in a situation where lethal force is justified.
Weapon lights are common on police and military rifles and shotguns and some units and departments have them mounted on their pistols. There are a couple of reasons why weapon lights aren't usually found on defensive pistols used for concealed carry. Lights can add bulk and weight to the pistol and finding concealment holsters for pistols with a specific light can be difficult. Depending upon the pistol, light and holster combination I've found, in some cases, that having a light attached to a concealment pistol can cause the gun to hang up on the draw. For these reasons I usually prefer to use a handheld light with concealed carry pistols. That's not the case for house guns – whether long gun or handgun – where I feel a weapon light is essential for identifying and defeating threats, but not for searching. Remember, lighting up your neighbor with a weapon light is likely to be charged as an assault.
Leading with the gun is another issue we should address. Normally we think of this as a problem when searching, as a gun barrel preceding you around a corner gives away your position, eliminates the element of surprise and might give the bad guy a decisive advantage. If leading with the gun is a bad thing, what about leading with a light or laser? Yep, same thing, and practicing with the switches on weapon lights and lasers is just as important as practicing your shooting skills. You want the light or laser to come on when you want, go off when you want and not give away your position.
Is it possible to escalate a confrontation by turning on a laser attached to a defensive pistol?  I was asked about this recently and, I think, just like pointing a gun at someone when it isn't justified, illuminating a laser could have the same effect. While some people might be intimidated and back off, others could be emboldened. This might result in the confrontation spinning out of control. The way lasers are activated comes into play here. One brand comes on automatically when you take the pistol out of the holster. While that might be an advantage in a draw and shoot situation it might not be desirable under other circumstances. The other two forms of laser activation can be defined as instinctive activation; the laser comes on when you grip the pistol, and deliberate activation; the laser comes on when you push a button or switch. Instinctive activation is good because you don't have to think about it – if you're gripping the pistol the laser is on but you need to work on how to turn the laser off while maintaining your grip on the pistol. Deliberate activation is good because the laser only comes on when you want it, may help avoid giving away your position or your intentions and might help to avoid escalation. Like defensive firearms, lights and lasers are tools and you have to practice using them to be safe, effective and legal. Give some thought to selecting appropriate tools and practice, practice, practice.
For more information on using lasers, here's a link to another article on Downrange: Defensive Pistol Lasers.
About the Author: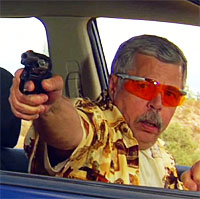 Ed Head is a regular on Shooting Gallery, Gun Stories and Down Range TV. He has worked for almost 30 years in law enforcement, first in the United States Air Force and then with the United States Border Patrol, retiring as a Field Operations Supervisor. During his Border Patrol career, Ed worked in a variety of patrol, investigative and training capacities. Ed has an extensive background as a firearms instructor, having trained thousands, ranging from beginners to police, military and special operations personnel. Having taught at Gunsite for 20 years, Ed first trained there under the world famous shooting school's founder, Jeff Cooper, then later ran the school as the operations manager for more than five years. Ed lives in Chino Valley, Arizona, where he continues to teach and write.