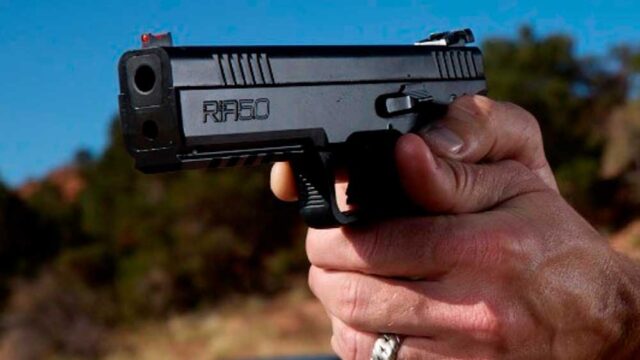 It is fair to say that I own and routinely handle more guns than most people, since it's my day job! Over this past year I've handled and shot better than two dozen guns — handguns, rifles, shotguns. I bought a couple of them (including the superb Ruger SFAR .305, the Tisas 1911 "Stingray" 9mm and the Rock Island 1911 10mm Commander, my true Backcountry Blaster.
I'm not saying I'm jaded, but it has been a long time since I opened up a handgun case and simply went, "Wow!" This one surprised me! The more I handled the new gun, the more wowie-zowies I felt. It was just plain beautiful, not to mention a seriously ergonomic masterpiece. The trigger was flawless…flawless, I tell you! It pointed like a birddog on meth. Think of it as a mishmash of a several of my favorite guns, with all the good stuff and none of the bad.
Let's just do some bullet points on the brand spanking new Rock Island Armory 5.0ST:
FIRST THIS…there is a lot of talk in the industry about innovation, and bold moves, and something completely original…and then what comes out is…wait for it…wait for it…a Hi-Power in FDE (please, nothing against Hi-Powers!).
The Rock Island Armory 5.0ST 9mm SAO is the Real Friggin' Deal.
• Holy crap this is a GUN! First off, it has the esthetics of the perfect sidearm for Rick Deckard in BLADERUNNER, or maybe the Monolith in 2001…sleek, spare, do flash slide million or Punisher symbols anywhere.
• It has the ergonomics of a beast that *wants* to shoot. The 5.0 points like a custom 1911 or a Sig P210. The frame is two pieces…an aluminum CZ-75 full length "dust cover" with a Pic rail attached to a nylon grip frame. The grip frame is, to me, perfect, rough enough to grip without drawing blood. The slide rides inside the frame a la CZ, but it rides with a smoothness and precision I've only felt on a few other guns — a Les Baer 1911, say, or one of the top-end CZ competition pistols (or, to be honest, a P210 after Bruce Gray finishes working on it).
• In appropriate BLADERUNNER fashion, the 5.0 has only three operating controls: the trigger, with the ubiquitous trigger safety we're all familiar with, the slide release and the mag release button (right-handed only). The slide release is placed and shaped to allow you (or at least me) to use it as a weak-hand "thumb shelf."
• The gun is hammer, rather than striker, operated. The hammer is shielded, which gives the 5.0 roughly an inch of extra sight radius.
• The external profile of the barrel is square, and gunsmith Fred Craig is a genius. Fred, who teamed up with ARMSCOR head Martin Tuason to bring the wonderful ,22 TCM (Tuason/Craig Magnum) to market around 2017, has fingerprints on the 5.0 as well. The 5.0 used a patented recoil system where the barrel does not tilt, but remains in-lint throughout recoil. I'll be doing some more research on this (called an RVS, for Ram Valved System), but the net net is the barrel sits slightly lower and directs the recoil directly back into the palm of the hand.
• With recoil directed rearward and the relatively heavy nose (the gun clocks in at about 39.5 ounces), it is wicked quick to run. So far I've used ARMSCOR 124-gr all and Federal 150-gr Syntech Match.
• The 5.0 comes with 2 17-round mags (unless, of course, you live in a slave state). I've done some checking and the mags are "sorta" Sig P226 patterned, but a stock 226 mag drags at the bottom. I have found the mags from the Tisas PX9, which are also 226-patterned, do work did fine, as did an ancient Mac-Gar 226 20-rounder I've had for a couple of decades…I loaded it and ran all 20 rounds without a problem. For those shooting, say, USPSA Limited Optics — which under the provisional rules is Minor ONLY with a 125 power factor — I think 24-25 rounds is probably do-able within the 140mm length. I thought I had some CZ mags around here to check out, but I'm still looking for them.
• Holsterwise, I need to talk to some people and I'll have something for you next week.
• The R.I.A. 5.0 is MADE IN THE USA at ARMSCOR's new Utah facility.
I talked to Lisa Tuason for a long time this morning. This gun has been 5 years in development, 8 years from the original, "Hey, what it we try this?" She/s been very involved in the creation of this gun and brining it into production. The gun I have now is a first run; my personal gun should be in the works next week, While th gun I have has an LPA adjustable rear and a Dawson fiber optic front, my gun will be milled for the C-More RTS2 dot.
I've now run a couple of hundred more rounds through it, and I like it more and more. This time I just used 124-gr ball, but this weekend I'm going back to the Federal Match and do some work on the plate rack.
My hat is off to Martin, Lisa, Fred Craig and everybody at ARMSCOR who made this gun happen. I can wait to race it!