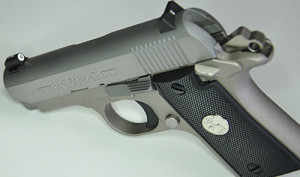 After carrying the Colt Mustang Pocketlite .380ACP almost daily for the past six months, an update to my review in March  is in order. To begin with, I initially reported the trigger pull as breaking at a little over 7 pounds. Crisp, but a little on the heavy side. Either because I first measured it incorrectly, or because the trigger has broken in, or due to divine intervention, I am pleased to report my Lyman electronic trigger gizmo now records the trigger breaking at just a bit over 4 pounds. It is, in other words, a perfect 1911 style trigger – and it's a pocket pistol. I'm leaning towards divine intervention as the reason for this trigger. I think the spirits of Samuel Colt and John Moses Browning have possessed the factory staff in Hartford, and that, by the way, is a very good thing.
My main issue with the Mustang from the start had to do with the sights. The grey ramped front sight was difficult for my tired old eyes to pick up. Although I was amazed at how well I was able to shoot the little pistol I felt I needed a front sight I could see quickly if defending myself with the Mustang became necessary. I shipped the slide off to the good people at XS Sights www.xssights.com and in no time at all it came back with their Big Dot front sight installed in an expertly milled dovetail on the front of the slide and their Express rear sight installed in the rear sight dovetail. That big white front sight really gets my attention; for close range, quick, down and dirty shooting it's all you need. Put the Big Dot on the threat and press the trigger…repeat as necessary. Both the front and rear XS sights are also made to glow with an eerie radioactive zombie green color (in other words, they are night sights) so they are the perfect sight for both daytime and night. Highly recommended.
People who know me are surprised to hear I am so taken with a mini 1911 in .380 ACP. Yes, I'm a 1911 kind of guy, and yes, my default caliber of choice is .45 ACP, but I'm telling you, I really like this little Mustang.
DVC,
Ed
About the Author: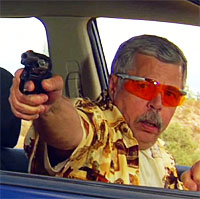 Ed Head is a regular on Shooting Gallery and Down Range TV. He has worked for almost 30 years in law enforcement, first in the United States Air Force and then with the United States Border Patrol, retiring as a Field Operations Supervisor. During his Border Patrol career, Ed worked in a variety of patrol, investigative and training capacities. Ed has an extensive background as a firearms instructor, having trained thousands, ranging from beginners to police, military and special operations personnel. Having taught at Gunsite for 20 years, Ed first trained there under the world famous shooting school's founder, Jeff Cooper, then later ran the school as the operations manager for more than five years. Ed lives in Chino Valley, Arizona, where he continues to teach and write.