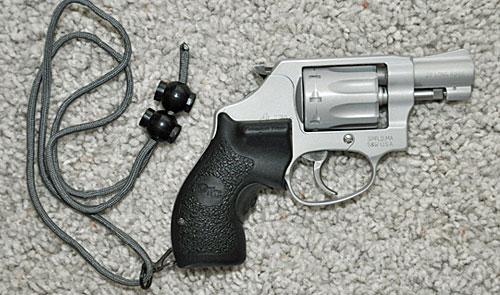 So, have you ever been in the shower when you wondered what you would do if someone were to break into the house?  Did you see the movie "Psycho"? You know, the shower scene?
A small, lightweight, waterproof pistol hanging around your neck could be just the thing to make you breathe a little easier during those vulnerable, naked moments. Especially suggested for police officers and other paranoid personalities, get your Gun On A Rope now.
Okay, seriously, lanyards aren't a bad thing on pistols and can be very useful in circumstances where you might not want to be separated from your gun.  Just make sure the lanyard has break-away features in case you need to get loose. To paraphrase my mentor, Jeff Cooper, if your defensive firearm isn't within reach, right now, you might want to ponder that a bit and make some adjustments to your defensive strategy.  A lanyard could be a part of that strategy.
DVC,
Ed
About the Author: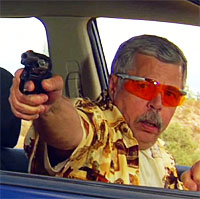 Ed Head is a regular on Shooting Gallery and Down Range TV. He has worked for almost 30 years in law enforcement, first in the United States Air Force and then with the United States Border Patrol, retiring as a Field Operations Supervisor. During his Border Patrol career, Ed worked in a variety of patrol, investigative and training capacities. Ed has an extensive background as a firearms instructor, having trained thousands, ranging from beginners to police, military and special operations personnel. Having taught at Gunsite for 20 years, Ed first trained there under the world famous shooting school's founder, Jeff Cooper, then later ran the school as the operations manager for more than five years. Ed lives in Chino Valley, Arizona, where he continues to teach and write.