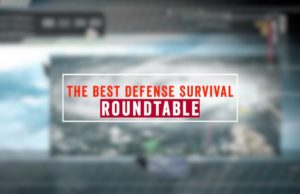 01:03:21
The Best Defense
More than a decade ago, TBD/SURVIVAL did a deep dive into pandemics and how Americans might protect themselves. Now that what we discussed in the abstract has come to pass, the TBD/SURVIVAL TEAM -- Michael Janich, Rob Pincus, Mike Seeklander and Michael Bane -- decided to come together to help people weather this crisis.
This week on MBTV ON THE RADIO, there's more discussion on COVID-19, especially on issues of personal and family security…and then, actual gun content, the new Ruger PC Charger!
This week Michael gushes about the Ruger LCP II .22LR [from Ruger…a sponsor…get over it], considers pocket pistol training and wonders why "Mean Girls" has to be the model for life in the 21st Century.
This week, after a brief detour to cowboy guns, Michael addresses the coronovirus hysteria. His advice is straight from the "Hitchhikers Guide to the Galaxy" — DON'T PANIC!
This week's podcast talks more about the Madd Macs Precision Tactical .22s, plus why you should never take any training information as a "revealed truth."
This week Michael talks about the victory in Virginia and the importance of gun owners laying aside their differences and pulling together in these troubles times.
This week Michael talks about carrying a gun at home, pocket carry and tips for answering the door after dark.
This week Michael talks about "Cartridgemania", more on .22 custom guns and the Ruger Super GP-100 in 9mm. He also survived the Super Bowl halftime show, although is presently suffering PTSD from shocking appearance of Shakira's tongue…
This week, Michael ponders trends from SHOT 2020 and gives a glimpse into future plans.
This week, Michael Bane gives his first report from Las Vegas and the 2020 SHOT Show.